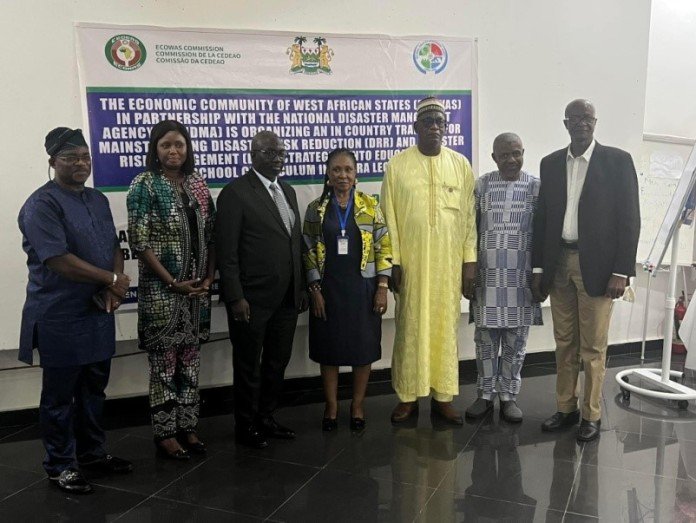 By Abubakarr Harding
The Directorate of Disaster Risk Reduction of the Economic Community of West African States (ECOWAS) in collaboration with the National Disaster Management Agency (NDMA) and the Ministry of Basic and Senior Secondary Education (MBSSE), have commenced a three-day training for school teachers and educators on mainstreaming disaster risk reduction in Sierra Leone on 14th August 2023 at Family Kingdom Resort, Freetown.
The collaborative initiative, driven by ECOWAS's Directorate of Disaster Risk Reduction, seeks to equip school teachers and educators with the necessary tools to integrate disaster preparedness and recovery knowledge into the education curriculum. Recognizing the pivotal role that education plays in enhancing resilience and reducing vulnerability, the program intends to foster a culture of preparedness from an early age.
At the heart of this endeavour is the commitment to cultivate disaster-resilient societies. The training program is designed to underscore the importance of schools and educators in achieving this goal. The integration of disaster risk reduction concepts into the curriculum, particularly in primary and secondary education, is hailed as a significant stride toward fostering preparedness and resilience.
An instrumental stride was taken in October 2022, when the NDMA and MBSSE jointly introduced teaching guidelines to incorporate disaster management as a subject in schools. This curriculum innovation ensures that students gain an understanding of disaster risk reduction, can identify early warning signs of potential hazards, and are equipped with strategies for pre-emptive action during and after disasters.
H.E Harouna Moussa, the Resident Representative of ECOWAS in Sierra Leone, emphasized the cost-effective nature of integrating disaster risk reduction into education. Moussa highlighted that this approach can substantially mitigate the long-term impacts of disasters, emphasizing that the training workshop aligns with the ECOWAS action plan's priority areas, including education and disaster-focused initiatives.
Moussa further underscored that the training workshop acts as a stepping stone for educational policies and programs that enhance the resilience of students, schools, communities, and the education system itself. He highlighted the importance of comprehensive school safety and social cohesion in achieving these goals.
The Director General of NDMA, Lit. Gen. (Rtd) Brima Sesay, expressed gratitude for ECOWAS's support in fulfilling the Sendai Framework for Disaster Reduction's directive to mainstream disaster management. Sesay noted the collaborative efforts that have gone into developing the teaching guidelines since 2018, when the NDMA was still part of the Office of National Security (ONS).
Sesay shared that the teaching guidelines emerged from partnerships with organizations such as the International Organization for Migration (IOM), which helped set the standards for knowledge dissemination to selected schools. These schools played a crucial role in testing out disaster risk reduction programs.
The integration of disaster awareness and risk reduction education in the curriculum was also hailed by the Deputy Minister 1 of the Ministry of Basic and Secondary School Education, Mrs. Emilie Gogra. Gogra affirmed her ministry's commitment to implementing the teaching guidelines across schools and encouraged the attending educators to maximize the training to enrich their understanding of disaster management.
Anticipated outcomes of the training include enhanced knowledge and skills in basic disaster risk reduction management among teachers, increased integration of disaster risk reduction and management into primary and secondary school curricula, and heightened participation of children, youth, and communities in disaster reduction and management efforts.
As the three-day training unfolds, stakeholders from ECOWAS, NDMA, and MBSSE converge with a common goal – to fortify the nation's resilience through an innovative and holistic approach that empowers educators to educate for safety and resilience.