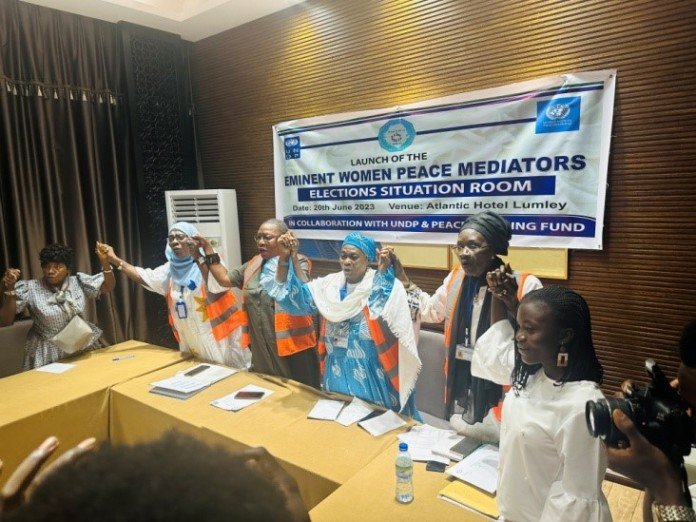 By Amin Kef (Ranger)
In an engagement that took place at Atlantic Hotel on June 25, 2023 , newsmen were informed by the  Eminent Women Peace Mediators , comprising indigenous Sierra Leonean women committed to promoting peaceful, free, fair and credible elections and supported by the United Nations Development Programme (UNDP) as well as the United Nations Peacebuilding Fund,  that it has been managing an Elections Situation Room  from where it  partly observed and monitored the 2023 multi-tier elections in Sierra Leone.
In her statement, Secretary for the Eminent Women Peace Mediators-SL, Ebun James-Dekam, noted that on Election Day they observed an atmosphere filled with anticipation and enthusiasm as citizens eagerly exercised their democratic rights further disclosing  how their observers and the Call Centre (Toll-free 522) reported the late arrival of voting materials which led to delays and incidents of unrest at several polling stations underscoring that those challenges were reported predominantly in the Western Area and the Northern Region.
"Media coverage during the start of voting was extensive and diverse, reflecting the significance of the electoral process. Various news outlets across television, radio, and online platforms provided mostly neutral and factual information about the voting process, voter turnout, and key developments at Polling Stations. This played a crucial role in keeping citizens informed and updated on the election processes," she continued.
Some of the key themes and issues, she said, they observed included: "Voter Turnout: which according to her was encouraging, with long queues of voters seen at various polling centers, demonstrating the citizens' eagerness to participate in the democratic process.
In terms of  Electoral Logistics, the organization's Secretary said it observed that Polling Officers were deployed on time , very few Polling Centres kept to the 7 am start time maintaining how delayed arrival of voting materials was reported in multiple polling centers, resulting in further delays saying in some cases voting was delayed till early afternoon leading to unrest. The Eminent Women proffered   the need for improved logistics to ensure the smooth functioning of future elections.
In the area of  Election Security  she informed how they observed the presence of security personnel across Polling Stations contributing to a generally secure and peaceful environment during the voting process furthering that pregnant and nursing women were given priority in the voting lines, although the late start at some Polling Stations presented some difficulties.
In addition, the organization said it observed an impressive turnout of women voters, including first time young women voters pointing out how the ECSL reported that there was at least 1 woman polling agent at every polling station across the country, women serving as party agents, national observers and in the media.
According to the  Eminent Women Peace Mediators ,women were also prominently represented among security personnel and with regards  Persons with Disabilities and Other Vulnerable Groups it said efforts were made to prioritize early voting for vulnerable groups such as the elderly and persons with disabilities.
Ebun James-Dekam, Secretary, Eminent Women Peace Mediators-SL noted that, however, challenges were identified particularly during the chaotic morning hours, where some Polling Centers fell short of accommodating these individuals, especially in centres where prominent politicians voted. She stressed that in addition very few centres made any special structural provisions for PWDs.
Secretary for Eminent Women Peace Mediators-SL said   Social media platforms played significant roles in shaping public discourse and disseminating election-related information adding that while citizen engagement was observed, there were instances of misinformation, hate messages, and voter intimidation, highlighting the need for continued vigilance and fact-checking efforts.
In highlighting key incident reports of specific challenges faced by voters, the organization mentioned Voter IDs available but  with missing names from voter lists, alleged attempted ballot stuffing, delay in the voting process due to late arrival of voting materials and issues related to accessibility for individuals with disabilities. The organization emphasized that some of the incidents were addressed through discussions with presiding officers, party agents, and relevant authorities.
Others, it said, could not be addressed and some people could not exercise their right to vote but stated that as the voting process continues and the results are tabulated, the Eminent Women Peace Mediators emphasizes the importance of addressing the identified challenges and ensuring transparency and accountability in the electoral process stressing that the influence of Social Media requires ongoing monitoring to combat misinformation and hate speech effectively.
The Eminent Women Peace Mediators by registering that the group remains committed to upholding the principles of fairness, peace, and inclusivity in Sierra Leone's democratic journey further extending gratitude to all stakeholders for their collaboration and dedication to a peaceful electoral process.