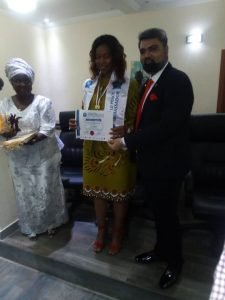 On Friday 3rd May 2019, during a ceremony held at the Office of the First Lady, the Founder, Chairman and President of World Peace and Diplomacy Organization, Dr. G. B. Singh, officially awarded the organization's highest and most prestigious award: 'The World Peace Ambassador', to the First Lady of Sierra Leone, Mrs. Fatima Bio, in recognition of her relentless work in bridging the gap created by social, racial and gender discrimination in Sierra Leone and the world at large.
Speaking on the importance of the award, Dr. G. B. Singh said that the award is presented to the First Lady on nomination and recommendations of the Board of Trustees of the organization. According to him, there are different categories of awards given to various individuals across the globe, which includes an award for Youth Ambassador for Peace among others.
But this award, he added, has only been given to four (4) individuals in Africa, with Sierra Leone's First Lady being the latest recipient.
Receiving the award, First Lady, Fatima Bio expressed her appreciation for being considered for such a prestigious award. She went on to say that she is humbled and proud to be a recipient of such an award.
However, she maintained that her work is not motivated by the desire for publicity; but rather she has been doing similar things prior to her assuming her current position. She further disclosed that while she does not crave for publicity; her present disposition dictates otherwise and that she could not help but carry on her job.
"What I do, I do selflessly and not for publicity…," she stressed. She also expressed her appreciation to the organization for considering Sierra Leone, adding that it is gratifying to know that there are people out there who follow her on her work inside and outside of the country.
She assured the Founder and President that she will not relent and will continue to do the work she is doing for humanity and for Sierra Leone. She expressed her satisfaction for having the space to continue her work; adding that her platform has been enlarged by the opportunity given to her by her husband.
World Peace and Diplomacy Organization was formed in 2011 by its founder Dr. G. B. Singh and is geared towards encouraging individuals and institutions to achieving the Sustainable Development Goals (SDGs) of the United Nations. Whilst recognizing that it could not preach peace and advocate for all the other issues in the SDG, it has therefore embarked on making Ambassadors who will carry on the message and the good work to meet these goals by 2030.
The ceremony was climaxed by the adorning of the First Lady with a shawl around her neck and a gold medal award of 'World Peace Ambassador'. A question and answer session formed part of the closing ceremonies.