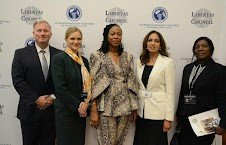 The First Lady of Sierra Leone, Dr. Fatima Maada Jabbie Bio, gave a powerful address at the Global Leaders Summit on Human Trafficking held at the Central Hall in Westminster in London on the 30th August, 2023.
Human trafficking, a pervasive global problem estimated to be a lucrative $150 billion industry, continues to devastate individuals, families, and communities worldwide.
The First Lady highlighted the alarming fact that less than half of 1 percent of victims are identified globally, leaving the majority trapped in exploitation and suffering.
Addressing a distinguished audience comprising political leaders, security experts, human rights advocates, and legal practitioners, Madam Fatima Bio emphasized Sierra Leone's unwavering commitment to protecting women and children from the horrors of human trafficking. She expressed gratitude to the Summit organizers for providing a platform to address the critical issue of victim identification, which remains disconcertingly low despite global efforts against modern-day slavery.
Dr. Fatima Maada Bio acknowledged the growing international movement against this grave violation of human dignity while recognizing the ongoing challenges in identifying and rescuing victims. She stressed the devastating consequences of human trafficking and commended Sierra Leone's proactive stance, particularly in child protection, stating that every child deserves a safe and nurturing environment.
As a renowned advocate for children and women's rights, the First Lady detailed Sierra Leone's successful campaigns for two significant UN resolutions in 2022, focusing on preventing child sexual exploitation and violence and ensuring access to justice for survivors of sexual violence.
Dr. Fatima Maada Bio also shed light on Sierra Leone's comprehensive strategy to address victim identification, involving collaboration between Government agencies, Civil Society Organizations, and survivor leaders.
She disclosed that training programs have been established for frontline responders, law enforcement personnel, and healthcare professionals, empowering them to identify and support trafficking victims.
According to her, community-level awareness campaigns have also been implemented to empower individuals to recognize signs of trafficking and report suspicious activities.
While acknowledging the progress made, she stressed the need for strengthened global partnerships, best practice sharing, and resource pooling to comprehensively tackle the problem. She called for investments in capacity building, cross-border cooperation, and sound policies that prioritize victim protection and support. Addressing root causes such as socio-economic disparities, gender inequality, and lack of education was identified as crucial in reducing vulnerability to exploitation.
Furthermore, Dr. Fatima Maada Bio emphasized the significance of survivor leadership in combating trafficking and advocated for survivors' insights to shape interventions and policy-making. She called for providing survivor leaders with platforms to actively contribute to the collective fight against trafficking.
In conclusion, Dr. Fatima Maada Bio appealed to all nations to unite in eradicating human trafficking, stressing the importance of increasing victim identification rates to expose and prevent exploitation. She called for collective resolve, determination, and bold actions to create a future where human dignity and justice prevail, and where the chains of human trafficking are forever shattered.
During the panel discussion that followed her speech, Mrs. Bio highlighted the need for developed countries to consider Africa in their global calculations, particularly in addressing key global challenges like the COVID-19 pandemic. She emphasized the importance of global cooperation in tackling these pressing issues.
The summit occurred against the backdrop of alarming statistics revealing that out of the 27.6 million victims of human trafficking worldwide, approximately 9 million are children, underscoring the urgency of addressing the critical issue.