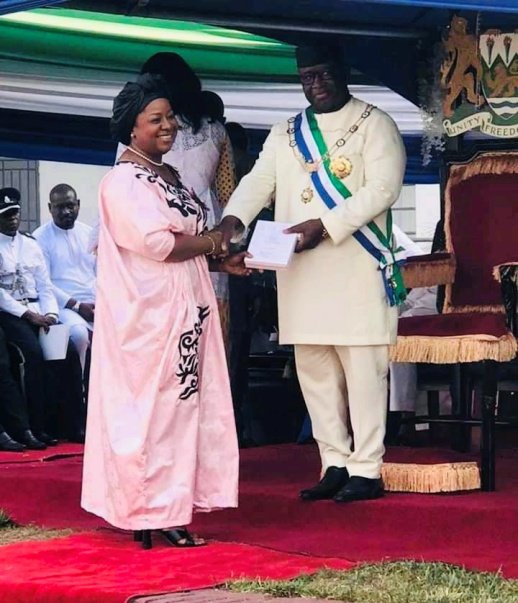 By Amin Kef Sesay
It is an indisputable fact that the recent recognition of the works and efforts of one of Sierra Leone's erudite, influential, charismatic and caring female personality, who has on countless occasions raised her voice to ensure that justice is seen to be done, to give solace to the needy, marginalized and oppressed, mounting advocacy in the direction of girls and boys empowerment, in the person of Madam Asmaa Kamara James, is indeed worth celebrating, if not over celebrating.
Indeed, it is amazing and highly impressive that just within a short period of time , Asmaa, was honoured by the British High Commissioner to Sierra Leone, Lisa Chesney on the 21st April 2022 as one, among six other Sierra Leonean women of substance, that were celebrated to mark Her Majesty, Queen Elizabeth's Platinum Jubilee, for pushing boundaries and inspiring women as well as girls and secondly by President Julius Maada Bio on the 27th April 2022 (Independence Day) as Officer of the Order of the Rokel (OOR).
Professionally and efficiently making use of the electronics broadcast platform, which is the Society for Radio Democracy 98.1 FM, this patriot of high integrity, has on times without number touched the lives of many, in and out of Sierra Leone, in many ways making hers a household name.
As Station Manager of Radio Democracy, with Frequency Modulation on 98.1, Asmaa James, has over the years, admirably worked tirelessly, with a very focused mind, to such an admirable extent that the challenges encumbered on her journey to taking the Radio Station to a lofty height and respectability it has attained today worldwide did not deter, distract or derail her from courageously trod on in order to live her dreams and positively impact society.
Through her flagship programme of Radio Democracy, "Gud Morning Salone", she has on many occasions raised consciousness among the vast majority in and out of the country on issues bordering on various fronts, political and socio-economic issues in a manner depicting giving light to the blind. In her usual way of asking penetrating questions during radio interviews or engagements she has succeeded on many times in proving politicians and public officials wrong on their stance on certain national issues sometimes to the dislike of those engaged but at the end of the day poignantly making the truth always stand out. Consciousness was and is still given where non was existing before or was suppressed with the deliberate attempt to allow the masses to wallow in their folly which was exploited on for selfish ends.
Through that platform, the hitherto "voiceless" majority got and still continues to have the space to add their voices on national conversations through the phone-in periods of the programme which by every means could be dubbed as democratic. Her careful navigation of the political divide in her ways of posing questions to politicians and public officials has sometimes being misconstrued by politically charged listeners or supporters who have erroneously concluded that she is either in favour of the ruling Government or the opposition at different times in Sierra Leone's political history. However, despite those seemingly distractions she stayed her course still with a focused mind.
But the name Asmaa James is not only limited to the radio as she has been passionately championing the rights of women and the Girl Child. She is the Founder of the Asmaa James Foundation (AJF), an advocacy movement geared towards promoting teenage sexual reproductive health and rights, with the objective of raising awareness, mobilizing women and girls to advocate and influence policies of sexual health in Sierra Leone.
Then came Girls + which an extension of AJF geared towards targeting young boys on promoting teenage sexual reproductive health and rights, as she has always said both sexes should be targeted for fruitful outcomes.
The records speak volumes of how she has raised her voice against rape, sexual penetration and the murdering of women or girls right across the country sometimes culminating in her declaration of Black Fridays to register or demonstrate indignation, protest, call for affirmative action to be taken and to influence policies at the highest levels.
Added to that advocacy work she has been passionately doing she has also lobbied for pregnant girls to be given the opportunity or space to pursue their education instead of allowing them to drop out of the educational system and for others to learn useful trades for self-reliance.
Her love for football is inspiring and she has demonstrated love for the darling team, Leone Stars, on numerous occasions, being among the fans that cheered the team recently in Cameroon, a passion which she shares in supporting the East End Lions Football Club.
Bagging two prestigious Honours within a short period is indeed a big accomplishment worthy of emulation and well deserved. She is indeed a perfect role model whose footprints should be followed by young aspiring and ambitious girls.
This medium therefore doffs its hat to one of Sierra Leone's Greatest, Asmaa James. Stay blessed. We "Kollay Oh!!