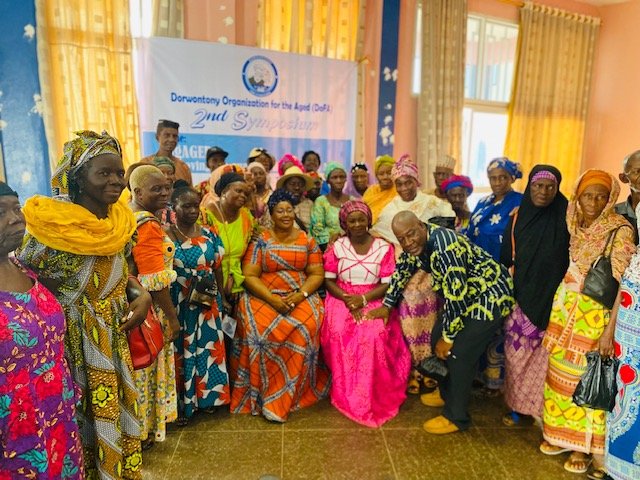 By Foday Moriba Conteh
In an effort to improve  better living for the Aged in Sierra Leone, the Dorwontony  Organization for the Aged  (DoFA) on Saturday April 23rd 2022, held it second symposium, at the 50/50 Hall Tower Hill in Freetown.
Deliberating on the purpose of the symposium, the Founder and  Chief Executive Officer of Dorwontony  Organization for the Aged  (DoFA) Doreen Barrie,  said the program mainly focuses on the welfare and status of the ageing people, particularly in this difficult period that the country's independence was drawing closer and also want to remind Government and other institutions to continue to  support the Aged.
She further disclosed that for far too long the aged had been neglected and therefore called for a rekindling of minds to care for the aged, hence the idea of organizing such a dialogue to create an opportunity for stakeholders to brainstorm and discuss the way forward and proffer solutions  that will  change the narrative of  the Aged.
She disclosed further that they have a networking that coordinates and brings old people together across Freetown.
Speaking on behalf of the Minister of Labor, the Director Social Safety Net, Ministry of Labor and Social Security, Ibrahim Sheriff Kanu expressed gratitude to DoFA for their relentless efforts towards the Aged, adding that in 2004 the Ministry established a national social policy for the Aged in order to combat challenges faced by the Aged and over the years the program has provided assistance to many Aged people across the country.
In his keynote address, former Internal Minister, Rtd Paolo Conteh outlined challenges that old people faces in the areas of discrimination, physical inability, financial status, social and gender equality and also highlighted some of the benefits, in addition and called on Government and other institutions to see the need of paying more attention to them.
Climaxing the event was an experience sharing session by the aged who were present some of which were that they have been treated as expired, in the area of Justice, face social and financial inability, they could go all day long on empty stomachs with  no food to eat not to talk of money , that people turn them her down and pay no attention to them because of their age and predicament.