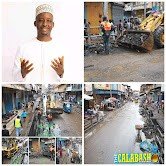 By Amin Kef (Ranger)
Mohamed Gento Kamara, popularly known as Gento, the leading SLPP endorsed Mayoral aspirant for the Freetown City Council (FCC) has once more impressed Sierra Leoneans, especially Freetonians, in big time ways, as he continues to demonstrate sterling leadership qualities and his zest to transform Freetown into a befitting capital city with all the trappings or paraphernalia that a truly planned city must possess.
The ambitious businessman, from the initial stage of making his intention known to vie for the position of Mayor for the Freetown City Council, stated that one of the things that propelled him into politics, was the ugly bloody incident that occurred on the 10th August, 2022, during which some so-called protesters took to the streets of Freetown and some parts of the provinces chanting , " President Bio Must Go", attacking police stations, vandalizing public properties and cold bloodedly slain about six police officers on duty. As the Police and Military were trying to quell down the violent protest some civilians were killed in cross firing.
Gento maintained that he was partly motivated to vie as Mayor of the Freetown Metropolis to restore the city's past glory, create opportunities for young people to be gainfully engaged and prevent them from being used by greedy, selfish and corrupt political figures for their own personal aggrandizement.
It therefore came as no surprise when it was revealed that a repetition of what transpired on the 10th August, 2022 will repeat itself that the leading Mayoral Aspirant, Mohamed Gento Kamara, decided to address Freetonians on the 12th June, 2023 to be calm, underscoring that the evil aim of some, because of politics will not succeed, asking Freetonians to go about their normal business activities. In a video message, Gento, appealed to Freetonians not to adhere to the dictates of one Adebayor, said to be residing in Holland and inciting Sierra Leoneans against the SLPP led Government headed by President Julius Maada Bio. He appealed to all to go about their activities peacefully.
Prior to that, the highly respected businessman cum politician, Mohamed Gento Kamara, led a thorough cleaning exercise, targeting Abacha Street.  It must be stated that Abacha Street, a beloved marketplace, has long suffered from mounting garbage, jeopardizing the health and accessibility of this vibrant hub. As a popular street on which street trading is rampant it is most times littered with waste of all sorts. In other words, Abacha Street is a famous place in Freetown that housed most street traders. Peddlers around the Freetown axis that ply that route buy from these traders. The street has been used as a trading ground for over decades in the history of Freetown. The gutters of that street are always filled with dirty of the remnants of the sold items of these traders. The street is most times dirty.
In actual fact, Abacha Street really posed some challenges while the cleaning exercise was ongoing but at the end of the day, with sophisticated machines and a highly determined youth workforce the seemingly impossible was finally surmounted. The cleaning was so thoroughly done in such a way that after it ended the mosquitoes, rats, flies, cockroaches etc had an emergency meeting during which time they decided to stage a protest for trespass.
In another engagement, in his usual philanthropic style and out of consideration bordering on fostering development, Gento donated 100 bundles of zincs to Kissy Brook Market for roofing of the market and other building materials for the construction of a public toilet for, in his own words, "make we mama and sister dem get conducive place for sell".
This gesture was welcomed by with lots of commendations for the aspiring Mayor.
Gento appears to be fast turning the tide as he recently got the endorsement of all 16 Tribal Heads of the non-Krio ethnic groups in the city.
The result-oriented aspirant is running on a platform to fix the basic problems of the city- starting from water, sanitation and providing public spaces and services for all.
In any way it is interpreted what for now is really certain is the undiluted fact that for now Gento is a crowd puller. Pulling the crowd did not just materialize just out of the blues but rather through hard work, compassion for humanity and sheer social networking. With such a high level of support from the masses, it is indeed a foregone conclusion that Gento will indeed be the popular choice of majority of Freetonians on June 24, 2023 as he is all set "to fix the problem".