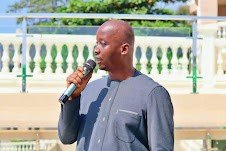 By Amin Kef (Ranger)
The People's Mayor in waiting, Mohamed Gento Kamara, commonly referred to as Gento, has with renewed vigour continued his meet the people tours, quite distinct from any form of political campaigning, during which periods the charismatic and result oriented road construction guru succinctly intimates what inspired him to contest for the position and how he intends to positively transform the Freetown Metropolis in order to bring it up to the standard befitting any modern capital city when he would have been elected as the Mayor of the Freetown City Council (FCC).
When Gento and his entourage landed in Kissy over the weekend, the whole Kissy Community went wild as residents were coming from all the nook and cranny to get a glimpse of the man of the moment, whose name and good deeds they have only heard of but have never set eyes on him. His supporters were repeatedly shouting his name in a rhythmic way with whistle and drum beat sounds enveloping the surrounding the vicinity creating a carnival-like ambiance.
The young and old were visibly seen clamouring to even get much closer to their guest to such an overwhelming extent that a stampede could have occurred if swift moves were not taken by some members of his entourage to divert Gento from the ever growing crowd that was converging on a playing field where the engagement took place by condoning an area on the field where he could not be easily accessed.
Cognizance must be taken of the fact that the Kissy community has been one of the key communities in the East End of Freetown that have opted to see Mohamed Gento Kamara and their reception was overwhelming.
After many reasonable and realistic submissions by the community heads publicly declaring their supports for Mohamed Gento's aspiration to be the next Mayor of Freetown 2023, the community head stated that they were blessed to have received the next Mayor of Freetown.
He informed the large gathering that he is the brain child behind the construction of a state of art road with flyovers, the Hill Cut Road in West End of Freetown, a philanthropist who has enormously rendered assistance to all classes of Sierra Leoneans. He expressed the view that Gento is very capable of transforming the capital city and there is every reason why he must be supported in order for him to translate his plans to tangible realities on the ground that would impact lives not only in Kissy but throughout the metropolis.
On his part, Gento started by admonishing "Kissitonians" that if they want a better Freetown, they should distance themselves from Tribalism, political sentiments and embrace each other as theirs is a breeding ground for any municipality to develop.
He underscored that the Kissy community is at the center of his heart as it is the community where he was born and raised up leaving a lot of positive and indelible experiences on his mind.
Gento clearly stated that devoid of his aspiration, he is charged with the zest to build Freetown as he has been doing for ages but said the community's support is very important for him to be elected as the next Mayor of Freetown maintaining that after attaining that position he will be in a better place to collaborate with other stakeholders to build Freetown in a way Freetonians have been yearning for ages.
Responding to concerns that past political promises have not been honoured, Gento said he does not believe in making false promises to gain their votes but rather he is someone who is very realistic and mindful of what he does.
He informed residents that he is very keen to see political tolerance at play which was what inspired him to bring together both the incumbent President, Julius Maada Bio and his predecessor, Ernest Bai Koroma to make a commitment to the Nation for in order to give peace a chance.
"The two held cordial discussions as if nothing had ever happened to hamper peace," Gento is on record of intimating the residents of Kissy.
He debunked the assumption that the Freetown City Council is an institution for ethnic monopoly adding that such is false.
In an attempt to discourage the nurturing of tribalism he gave examples of cross marriages making reference to himself Gento by saying he is a Temne and Limba but his wife is a Mende, President Bio is a Shebro/Mende but his wife is a Mandingo, Ernest Bai Koroma is a Temne/Limba but his wife is a Kono, Samura Kamara is a Temne but the wife is a Mende and lest but not the least Kelfala Marrah is a Koranko but his wife is a Mende.
He asked rhetorically:  "Why do people still assume that there is tribalism?
He said there is indeed a moral defect which he stands to combat furthering that if there is an outburst of widespread violence in Freetown such will affect the economy as investors will shy away.
When the man of the moment declared that when he becomes the sitting Mayor he will pledge his salary to assist the disable community within Freetown there was an outburst of applause in commendation of such a gesture.
The highpoint of the occasion was when various social groups stepped forward to register their massive support for Gento.