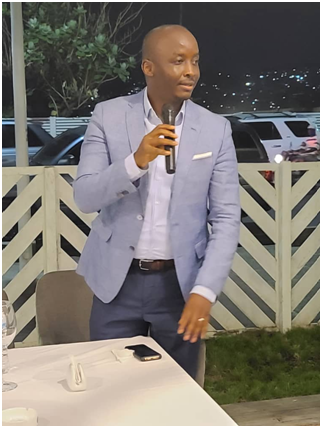 By Amin Kef (Ranger)
Mohamed Gento Kamara, popularly known as 'Gento', the Chief Executive Officer and Country Director of Gento Group, has intimated this medium that besides road construction and rehabilitation, the Gento Group is also involved in other business activities.
He continued that when they commenced business or operations, their focus was mostly on road construction furthering how they were yearning to partner with local and foreign companies with the avowed objective of implementing several projects.
The result-oriented personality disclosed that today they operate with three subsidiaries offering services in the construction and rehabilitation of transport infrastructure, as well as in the development of residential housing projects.
"Gento Group has become a key player in the construction sector, undertaking the building of multiple roads and bridges across the country," he intimated with pride adding that as an entrepreneur and CEO, he is happy to contribute to the country's development.
He told this medium that they now employ over 1,000 people and currently implementing multiple projects worth millions of dollars in various parts of Sierra Leone adding  how they also work closely with communities across the country, providing support to residents where needed.
In terms of competition, he said he believes that competition is very important as the arrival of more companies translates to rising job opportunities for our people."
He continued that increased competition also ensures higher operational standards as every player attempts to raise the bar arguing further that such has a positive impact on the development of the country, be it in construction, finance, agriculture or any other sector.
The Gento Group CEO maintained that they are a company that believes very strongly in ethics, discipline and dedication revealing how he considers himself as a very dedicated person who believes such is a critical quality to have in business.
Gento asserted that as a team, they have maintained a high sense of commitment from the genesis of the business emphasizing that their efforts have obviously produced great results saying he believes they will continue to thrive, even as the market becomes more competitive.
"I am very optimistic about the future and I see many business opportunities," he said with determination adding that Sierra Leone still needs to make huge investments in developing new roads, bridges and rail infrastructure averring how such presents opportunities for players in the construction industry.
Dilating on the rolling out of their Corporate Social Responsibility he said  they are driven by a deep sense of patriotism  he said he lived in the UK for several years and considers himself fortunate to have spent a small part of his life there.
"In the UK, I learnt generosity and the importance of serving communities," he disclosed also stating how when he returned to Sierra Leone, he continued helping others and even spread this mentality to the people around him adding how  unlike in the UK, there are many more people here who need help.
"Whenever there is a need to assist local communities or help the country during a natural disaster, I always bring my small contribution," he said informing how he believes that if we are to change the social and economic situation in the country, we have to begin by changing the lives of individuals and then, collectively, we will become a better country.
Mohamed Gento Kamara intimated that he would encourage investors to invest in the country by telling them that Sierra Leone is an attractive investment market with many opportunities.
He continued that Sierra Leone borders the Atlantic Ocean, which means the country can be a strategic connection between the Western world and parts of Africa.
Gento expressed the view that Sierra Leone also has a rich supply of mineral resources and we are currently investing heavily in agriculture with plans of doubling agricultural production by 2025.
It must be noted that many have been commending Gento Group for its pro-activeness in  recently mitigating a flood on Wilkinson Road due to  heavy downpour with the latest being the First Lady, Dr Fatima Bio, who said on her Twitter account, "I returned home on Tuesday passing through Wilkinson Road. There was flooding everywhere and I can't help but ask what do we have a Mayor for? Thanks to Mohamed Gento Kamara who came out to clear our gutters to allow free flow of water around the city. #Freetonians be wise."