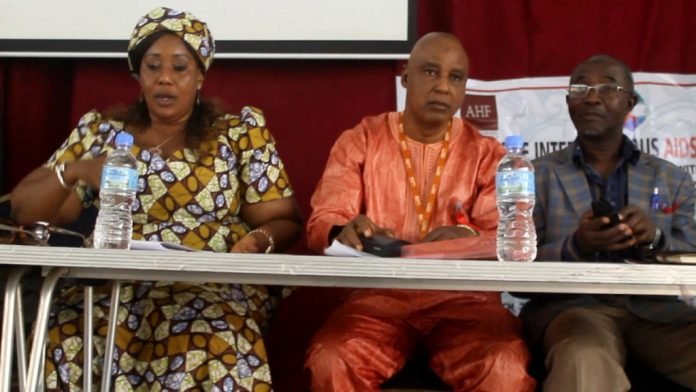 In a staggering revelation the Director General of National HIV/AIDS Secretariat, Alhaji Dr. Momodu Sesay stated that more than 61, 000 people are HIV positive in Sierra Leone. This, he added is according to their 2013 Prevalence Demographical Health Survey which noted that more than 28, 000 people are currently receiving HIV/AIDS therapy.
He made this disclosure during a partnership forum of Religious Leaders and Development Partners for Sustainable Religious Response to HIV/AIDS.
The process of developing a strategic plan to support the HIV/AIDS response in the country started two years ago in terms of prevention, treatment services and eradicating stigma and discrimination of people affected by the disease.
The religious leaders agreed to inform their respective followings about how they can channel or address issues around the crisis of stigma and discrimination which is one of the main problems affecting people affected.
Giving the keynote address, Minister of Social Welfare, Gender and Children's Affairs, Baindu Dassama said HIV/AIDS is a crisis that needs huge spiritual, social, economic and political attention, adding that increasingly, it is a problem of all ages.
"Overcoming AIDS and the stigma that fuels the spread of HIV is one of the most serious challenges of our time," Madam Dassama said, adding that it requires courage, commitment and leadership at all levels especially among religious leaders who can use the trust and authority they have in their communities to change the course of this pandemic and all other emerging issues.
Dassama said they can reach their goal through partnership with citizens, communities, and countries to reflect the sustainable development agenda of the country.
According to the Director General of National HIV/AIDS Secretariat, Alhaji Dr. Momodu Sesay they have work to do in scaling-up their services in terms of universal access to 1,308 facilities in the country.
According to him, the limited number of health facilities is a major challenge but that they are hoping to build more.