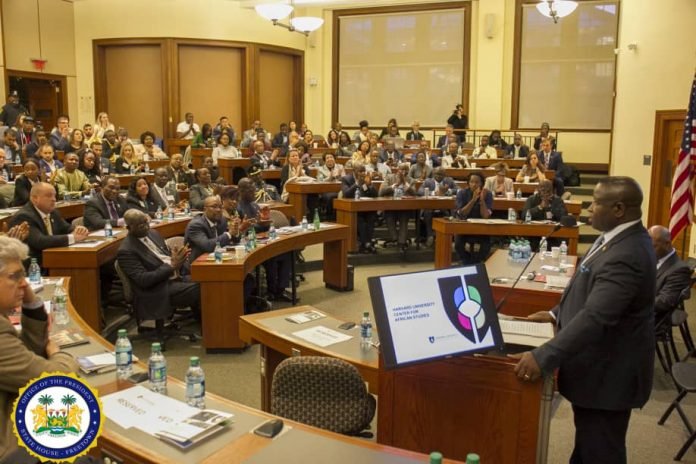 In the United States of America,His Excellency President Julius Maada Bio has wooed academics and students at Harvard Law School during a forum on Sierra Leone organised by the Centre for African Studies, Harvard University.
Delivering his keynote address, a confident President Bio said that he has prioritised human capital development because that is the foundation for sustainable development.
In his usual unique description of human capital development, he told his audience about the three components of human capital development which include education, food security and healthcare. In addition to the free quality education, he also highlighted measures he has undertaken for food security and accessible healthcare.
President Bio also said that he was in Harvard University to seek partnership and collaboration through experience sharing, knowledge sharing and learning. Discussing the cost of his flagship programme, free quality education, he also said that "ignorance is more expensive than education".
President Bio used the forum discussion which coincided with International Women's Day to higlight some of his policies which have been targeted towards the protection and empowerment of women and girls in Sierra Leone. In the area of education, he spoke about grants-in aid for female students pursing sciences in tertiary institutions. A passionate President Bio also explained about the state of emergency on rape and sexual violence as part of series of measures to protect girls and women.
President Bio also highlighted his achievements in revenue mobilisation and control of expenditure to demonstrate his efficient economic management of the State. He spoke of his war against corruption and the commissions of inquiry to ensure democratic accountability to the people.
During the dialogue forum there were also expert presentations by academics in the following areas: Dr. Paul Farmer presented on Healthcare Infrastructure and Healthcare Delivery; Professor Fernando Reimers presented on K-12 Education for a Global World; Professor Margaret McMillan presented on Economic Development in Sub-saharan Africa and Professor Raymond Atuguba presented on Law and Governance in Sierra Leone.
Earlier, President Bio held discussion with the Harvard University President, Larry Bacow and senior academics of the University wherein a partnership between Harvard University and Sierra Leone was discussed.
Later in the evening, President Bio was also hosted to an investors dinner where the Presidential Adviser on Economic and Financial Policy, Mr. Joe Demby, presented the Sierra Leone Investment Ecosystem Strategy and the Minister of Planning and Economic Development, Mrs Nabeela Tunis presented on investors' experience in Sierra Leone. During the investors' dinner, President Bio also assured investors of his commitment to improve the investment climate in Sierra Leone and invited them that Sierra Leone is open for business.