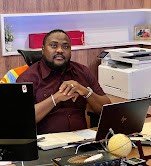 Amid the varied sentiments circulating within the higher echelons of power regarding recent appointments made by His Excellency President Julius Maada Bio, one individual's appointment stands out with unequivocal certainty. Among the many appointees, we find the young and dynamic figure of Yankuba Askia Bio, commonly referred to as "Jada" among his peers and close associates, now assuming the role of General Manager at the Sierra Leone Port Authority.
The selection of this Logistics and Maritime Specialist garnered widespread approval from nearly every operator and service provider at the Port, as well as associated agencies throughout the country. Notably, resounding applause and cheers came from the countless party loyalists, young men, and women who have benefited from the opportunities he provided over the years.
Bringing a wealth of over 15 years' experience in Logistics and Port operations,  Yankuba Askia Bio's journey began as a Sales Supervisor at Sierra Leone Brewery, an experience that not only introduced him to the tenets of professional work ethics but also nurtured his understanding of diligent labor, a strong sense of responsibility and a commitment to performance excellence.
In the realm of Logistics, encompassing the movement of cargo by Air, Land and Sea handling not only delicate consignments but also multimillion-dollar equipment, Yankuba stands out prominently. His tenure as Logistics Supervisor at Bollore Africa Logistics, a subcontractor to one of the largest mining firms of that time, London Mining, showcased his oversight of over 100 personnel. In this capacity, he managed procurements and logistics, a role integral to the mining company's overall operations. Yankuba earned the respect of his peers and colleagues as a dedicated professional, contributing not only to professional growth but also to personal development. He was poised to assume leadership responsibilities within the company until the unfortunate Ebola outbreak prompted its closure.
In the five years leading up to his recent appointment, Yankuba served as the Deputy General Manager at Sierra Leone Ports Authority, playing an instrumental and highly engaged role in achieving transformative initiatives during his tenure.
Before being handpicked by His Excellency Julius Maada Bio to join Sierra Leone Port Authority in 2018, Yankuba served as the Country Purchasing Manager at BOLLORE AFRICA LOGISTICS, a major Port Operator managing an expansive portfolio of port operations across West Africa.
His journey progressed from:
Team Leader at UNICEF
Logistics Superintendent at Bollore Africa Logistics (Marampa Mines)
Country Procurement Director at Bollore
Deputy General Manager at SLPA
And now to his latest position as:
General Manager at SLPA
Equipped with an undergraduate degree in Linguistics/Literature from Njala University and a Post Graduate Masters in Public Administration, complemented by several professional qualifications including CIPS (Chartered Institute of Procurement and Supply), Yankuba's  robust technical and professional skills position him effectively to lead at Sierra Leone Ports Authority.
When queried about his momentous role as the New Director General, he conveyed, "I express my gratitude to His Excellency President Bio for his confidence in appointing me as the head of this crucial agency. The Port serves as the gateway to our economy, and the determination of His Excellency to foster economic growth through his Big Five Agenda is indisputable. The Port's role in this endeavor is paramount, and my aspiration is to ensure that the Authority responds with utmost professionalism to expedite turnaround times, bolster security measures, and enhance customer confidence," he concluded.