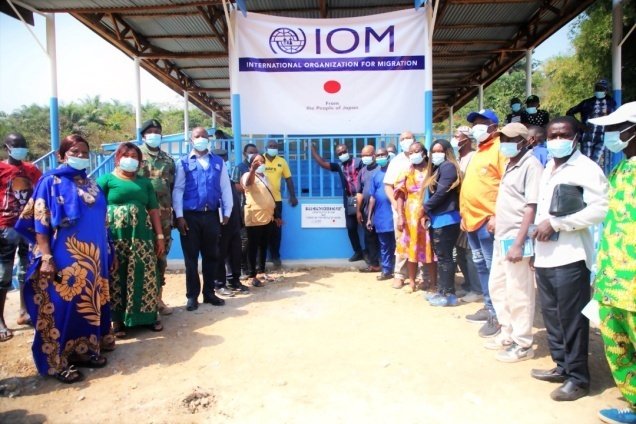 By Esther Wright
The International Organization for Migration (IOM) and the Ministry of Health and Sanitation (MOHS), on the 5th February 2022, inaugurated a new border health screening post at Bailu, a major crossing point in Luawa Chiefdom, Kailahun District, along the Sierra Leone border with Guinea.
The construction of the Post was supported by IOM with funding from the People of Japan, under the project "Strengthening Health System Capacity, Preparedness, and Resilience in COVID-19 Points of Entry with Sierra Leone Diaspora". The new post has been equipped with office furniture, renewable energy source, Infection, prevention control (IPC) equipment, and materials. Also, this post ,which has now been upgraded from level C to level B (and further to level A), represents a major milestone for IOM and the Government of Sierra Leone.
Similarly, at the Sierra Leone- Liberia main crossing point in Jendema, IOM supported the construction of a WASH facility, and the rehabilitation of a health screening post in Fulamasa, Dembelia Sinkunia Chiefdom in Falaba District. The post is equipped with office furniture, solar power, and IPC materials.
Launching the new health screening post, the Chief Medical Officer, Dr. Sartie Kenneh said that "they are happy about the construction of the Post as it would contribute greatly to enhance Preparedness and response to Public health emergencies. Strengthening health security at the border is extremely important. So, if health screening posts at POEs are well utilized, this will prevent disease outbreaks from entering Sierra Leone via those crossing points".
In his remarks, Dr. James Bagonza, Head of Office at IOM Sierra Leone stated: "The new border post provided will be critical for border health screening while facilitating the safe movement of people across the border". "This will also help Port Health staff of MOHS strengthen health monitoring and Surveillance mechanisms to reduce the spread of COVID-19 and other communicable diseases; by detecting travelers who are sick or who have been exposed to infectious diseases", he added.
Over the years, IOM has been supporting the Government on migration health including the provision of logistical support at POEs and also building the capacity of port health staff, and delivering risk communication and community engagement activities in border communities. In 2014, IOM has been working closely with the Ministry of Health, especially the Port Health Division to support health screening at various border crossing points in the country. When COVID-19 was confirmed to have reached Sierra Leone in March 2020, IOM worked with the Ministry of Health to reactivate health screening and risk communication activities at different POEs across the country.