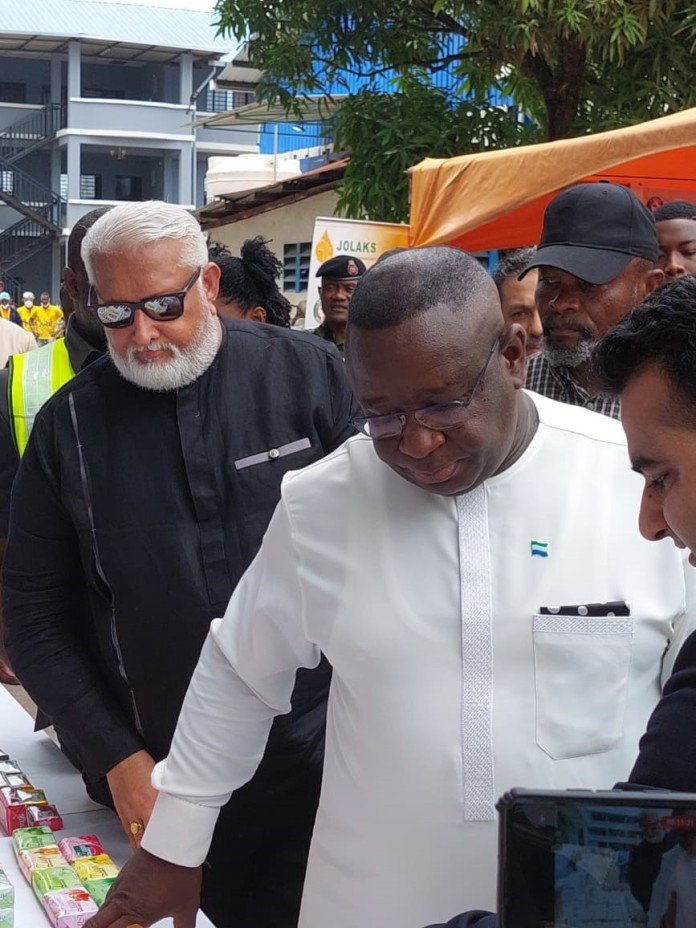 Jolaks Company played host to President Julius Maada Bio on Wednesday 21st June 2023 at its Wellington manufacturing industry while on a visit to show appreciation for the company's support of one of his manifesto promises, which is to create employment opportunities for Sierra Leoneans and make them happy in their workplaces.
Receiving the President and his entourage was the Chief Executive Officer of Jolaks, Mahesh Nandwani, Management and Staff who heartily and warmly welcomed them.
It must be noted that Jolaks Manufacturing Company Limited is the biggest palm oil refinery & soap producer in Sierra Leone which is easily identified by its flagship Padi Cooking Oil and a variety of soaps.
On his part, the Minister of Trade and Industry, Edward Hinga Sandi, who was part of the President's entourage commended the company for translating one of the Government's commitment of providing employment opportunities in the past five years furthering how the company has offered job opportunities to a considerable number of people, many of whom are Sierra Leoneans and has done a lot for the country and communities under its Corporate Social Responsibility.
"President Bio always wants people to have quality jobs, which Jolaks has provided to its employees," he said and expressed appreciation to the Management of the company for serving as a role model in contributing directly to national development.
The heavily built Founder and Chief Executive Officer of Jolaks, Mahesh Nandwani, in a statement mentioned how he met with the President when he assumed office to seek his approval and blessing to establish a company that will produce cooking oil and soap for national consumption and export.
He continued : "Since that day I have been receiving the support of his Government, which has made Jolaks a top producer of Padi Cooking oil," he said and added that his company has enjoyed a fruitful investment environment in the trade sector that has led to the opening of so many marketing opportunities.
"Our dream has always been to stop cooking oil importation. We are making good use of the President's blessing to produce quality cooking oil, soap, and other products that we exported to other countries," the shrewd Mr. Nandwani maintained and assured that their production would be doubled and tripled in the coming years.
"We should contribute to effect positive development in the country. We have also established a cube factory and a farm in Lungi cultivating onions. Very soon Sierra Leone will stop importing onions," he revealed.
In a brief statement, President Bio said that one of his manifesto promises is to improve standards of living and put smiles on the faces of Sierra Leonean saying that was partly fulfilled by encouraging investments which Jolaks Company seized opportunity of. "I can see happiness and a direct relationship at Jolaks," he said and furthered that this is what the Government intends continuing to do. He commended Mahesh Nandwani for making his dream come true. "Little by little we are reducing the number of goods imported. It is helping the Government make money, and families are benefiting a lot," Bio said and commended the company's move to make Sierra Leone become a net exporter of cooking oil to West African nations.
He said though he is happy that very soon Jolaks will make Sierra Leone start exporting onions, he , however, challenged the company to invest in rice  cultivation to help stop its importation. "I am happy to see cohesion and togetherness. I want more people to emulate the good examples of Mahesh. We should unite to promote development," he enjoined and ended up thanking the Management and Staff for helping him deliver his manifesto promise and assured of his Government's support at all times.