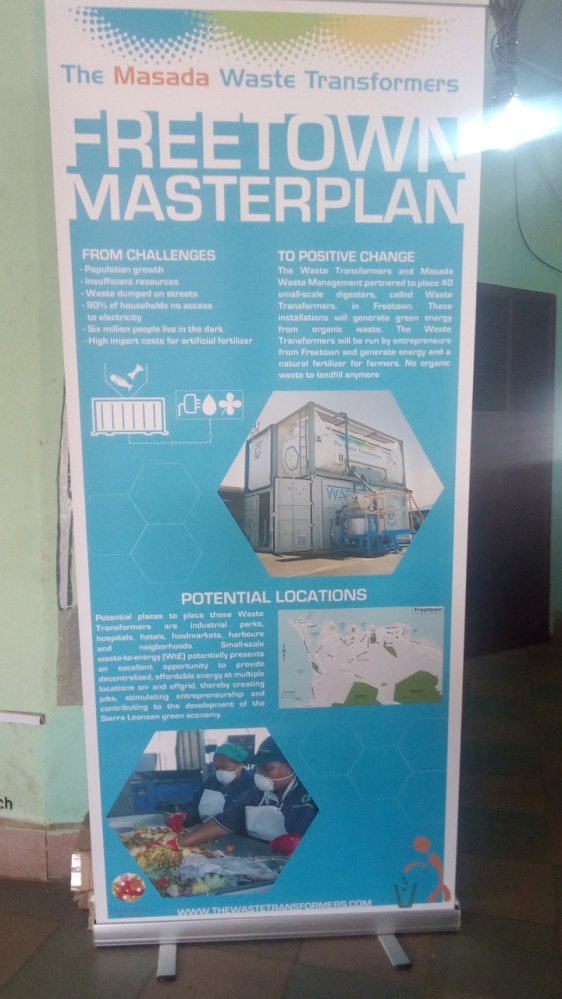 Waste management has been a serious problem in Sierra Leone for decades it not only affects the environment, but the health conditions of the citizens.
As part of addressing this problem, Masada an institution that has been working tremendously to mitigate waste in the country is poised to place 40 small-scale digesters, called waste transformers within the Freetown municipality.
These waste transformers will transform organic waste into energy, onsite. And it will also tackle the issue of sanitation, as this will allow communities, schools, and hospitals to turn their waste into value. The waste will not only be turned into energy, but it will also be turned into a high grade natural fertilizer for farming, create and provide employment for young people.
Speaking during the launching ceremony, Chief Executive Officer of Masada, Gibril Wilson, disclosed that this project is aimed at turning organic waste into biagraph that can be used for electricity, cooking Gas, fertilizer etc. He maintained that a demonstration of this new technology will be staged at the Well Woman Clinic at Aberdeen. This will be the pilot phase in anticipation of a 40 consignment, which will be rolled out across Freetown over 5 years. Whilst it will provide a greener way of disposing waste, it will also provide jobs for young people, especially those involve in the collection of waste with push carts and also Masada trained staff. He stressed that the challenges that population growth brings to the waste disposal system of the city will be a thing of the past. The absence of sufficient resources for waste disposal, absence of waste dumping sites, high cost of importing artificial fertilizers will be addressed by the Waste Transformers, as it will transform all organic waste to energy (electricity), turn them into natural fertilizers for farmers, no more will organic waste be seen in landfills, he stressed.
Potential locations for these waste Transformers will be in Industrial Parks, Hospitals, Households, food markets and neighbors. Waste Transformers are a set of shipping containers equipped with latest technologies to generate value from organic waste.