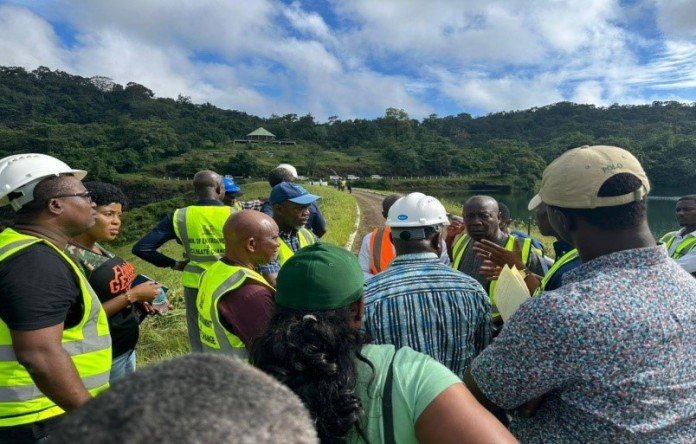 By Amin Kef (Ranger)
Minister for Environment and Climate Change, Jiwoh Abdulai, has conducted an on-site assessment at the Guma Dam in Mile 13 on Wednesday, August 2, 2023 in a bid to address the mounting threats to water security in the Western Area.
Accompanied by the Managing Director of Guma Valley Water Company, Maada S. Kpenge, the Minister observed firsthand the detrimental impact of various human activities within the Western Area Peninsula Forest National Park.
These activities, which include deforestation, stone mining (quarrying), construction of buildings, and illegal marijuana farms, are seriously jeopardizing water sources like the Mile 13 Dam and other vital community water supply schemes such as Kongo Dam, Takuyama weir, Charlotte weir, as well as the proposed sites for the Orugu and Big Water Dams.
Maada S. Kpenge highlighted the urgent need to safeguard the water catchment areas within the Western Area Peninsula Forest National Park, which serves as a critical source of fresh water for over 1.5 million people residing in the Western Area.
Responding to the pressing situation, Minister Abdulai expressed grave concern, labeling it an existential threat to the region. He pledged to escalate the matter to the Office of the Chief Minister and assured the public of engaging with the Minister of Water Resources and Sanitation, as well as the Minister of Lands, to address the consequential threats posed to the water supply in the Western Area.
During the assessment visit to the Guma Dam area, the Minister was accompanied by key officials from the Ministry of Environment and Climate Change, Environmental Protection Agency (EPA), and the National Protected Area Authority (NPAA). The collaborative effort among these agencies demonstrates the seriousness of the situation and the commitment to finding sustainable solutions to the water security crisis in the Western Area.
As the threat to water security looms large, the nation awaits further actions and measures from the Government to preserve and protect these vital water resources for the well-being of its citizens.