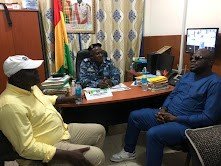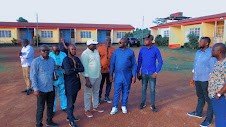 By Amin Kef (Ranger)
In a surprise move, Chief Ibrahim Brima Swarray, the Commissioner General of the National Revenue Authority (NRA), embarked on an unannounced tour to NRA outstations in Gbalamula and Port Loko Checkpoints on Friday, August 4th, 2023. The aim of the visit was to ensure efficient service delivery and assess the operational effectiveness in these areas.
Accompanied by NRA branch manager, Joseph Rogers ESQ, and other management staff, Chief Swarray's primary objective was to familiarize himself with the working conditions and challenges faced by staff in the region. During his visit to the Gbalamuya Customs Post in Kambia and the Port Loko Checkpoint, the Commissioner General emphasized the need to create a conducive corporate environment that enables employees to perform their duties with greater efficiency and professionalism.
In a meeting with the Customs management at the Gbalamuya customs post, Chief Swarray expressed his delight at the significant revenue generated by the checkpoint, making it one of the largest revenue collection points within the Customs Service Department. Addressing the concerns raised by staff and those identified during his visit, he promised swift resolutions to improve working conditions and infrastructure.
The inspection team meticulously examined various facilities, including the baggage park, cargo inspection facility, staff quarters, and other NRA offices at the Gbalamuya customs point. They also assessed other properties belonging to the Authority that required urgent rehabilitation. Among the challenges highlighted were the absence of electronic scanners, inadequate infrastructure, and unreliable internet connectivity.
Despite acknowledging the difficulties faced by the staff, Chief Swarray encouraged them to remain resolute in meeting their targets while assuring them of unwavering support. He pledged to address the identified issues promptly to create a conducive work environment for the NRA employees.
The Commissioner General's visit also included a courtesy call to the Customs Authorities from neighboring Guinea, where Col. Niankoye Gbilemou extended a warm welcome and congratulated Chief Swarray on his appointment. He expressed their commitment to continued collaboration.
The Commissioner General's visit is expected to play a vital role in enhancing the working environment and management practices, with the ultimate goal of upgrading customer service and operational efficiency. As part of the ongoing efforts to boost revenue collection, the delegation is set to visit other revenue collection points across the country.