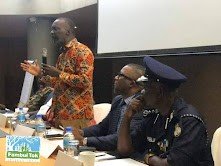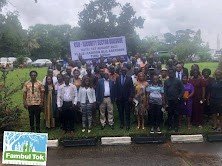 By Amin Kef (Ranger)
On Tuesday, 1st August 2023, a momentous event took place at the Radisson Blu Mammy Yoko Hotel in Aberdeen, Freetown, as representatives from Civil Society Organizations (CSOs) and the Security Sector came together to sign a fourteen-point Communique. The signing aimed to address post-election tensions and foster peace and national cohesion in Sierra Leone.
Led by the National Security Coordinator (NSCoord), Abdulai Caulker, and attended by various Civil Society Organization representatives from across the country, the dialogue session centered on the critical role played by the security sector in safeguarding civil liberties and providing remedies for abuses, particularly in the post-election context.
The signed Communique emphasized the necessity of genuine dialogue between political parties, citizens, and Election Management Bodies (EMBs) to establish trust. Additionally, it strongly condemned any threats directed at Election Management Bodies and election observers.
During the deliberations, all parties agreed to a set of recommendations that addressed various issues related to CSO engagements with elections in Sierra Leone. The recommendations encompassed Elections Observation, CSOs' engagement with the national security architecture and security committees at the Chiefdom, District, and Provincial levels. The Communique also aimed to enhance CSOs' understanding of the national security architecture through a dedicated platform facilitated by the Office of National Security (ONS).
Moreover, the Security Sector pledged to be proactive in investigating reported cases of violence threats during political events, including elections. They also committed to conducting public information and education campaigns during electoral cycles to inform citizens about the legal framework and the roles of Election Observers in supporting credible elections.
To ensure a safe and conducive environment during electoral cycles, the Security Sector vowed to roll out public awareness initiatives on how citizens can report cases of violence threats in Sierra Leone. They also pledged to prevent Security Sector Actors from openly participating in politics during electoral cycles, promoting impartiality and professionalism.
One crucial aspect agreed upon was the reactivation of the Constitutional Review Process to address gaps in the 1991 Constitution of Sierra Leone. Additionally, the Security Sector contemplated establishing Public Complaint Centres across the country and implementing mechanisms for Witness Protection.
To bolster CSOs' capabilities in dealing with modern challenges, capacity-building programs on Cyber Legislation, Cyber Threats, and handling misinformation will be facilitated.
The Communique urged political parties to work hand-in-hand with Election Management Bodies and build trust in their processes. Furthermore, it emphasized the importance of upholding the Rule of Law and fostering political tolerance, allowing CSOs to provide feedback and express their views on security and national matters.
With this historic Communique, CSOs and the Security Sector have taken significant strides in ensuring a peaceful and cohesive future for Sierra Leone. The joint commitment to addressing post-election tensions and promoting dialogue will undoubtedly contribute to a more harmonious and democratic nation.