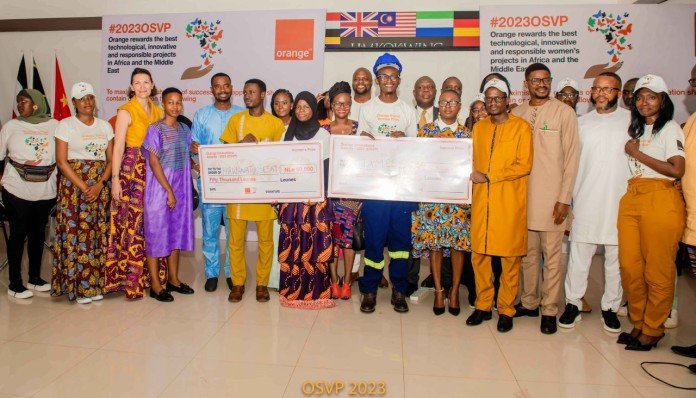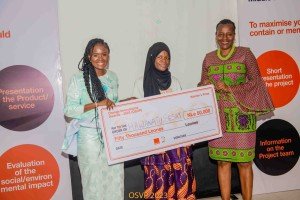 By Abubakarr Harding
Orange Sierra Leone, one of the leading mobile telecoms in the country, on Friday 4th August 2023 concluded its 5th Edition of the prestigious Orange Social Venture Prize (OSVP) pitch event. The competition which featured eight (8 finalists vying for the impressive prize sum of One Hundred and Fifty Million Leones (Le150M) was held at Limkokwing University, Hill station in Freetown.
The OSVP is basically divided into two categories, one which is the Tech Queen category, where they have three female contenders, and the other which is the Innovation and grand final category, which 5 grand finalists of both gender contend.
In her opening statement, Martha Sumaila who is the Head of Communications at their Marketing Department, said that five years ago they started a very long journey which over the years has empowered a good number of youth in the country not on innovation for their customers but that they create a platform where youth can showcase their talents, and that today they are making another history in helping somebody move in terms of innovation.
Head of PR/CSR at the General Secretary Department, Kamal Abass, in his statement also welcomed everyone at the pitch night of Orange Social venture prizes (OSVP). He said this is the 5th edition of Orange Social Venture Prizes and the 13th edition in the Middle East and Africa, and that they will continue to make history in terms of technology, creating platforms for start-up and young innovators in the country at the same time to push gender equality.
In the presence of esteemed dignititaries including Government Ministers, Diplomatic Corp, and key stakeholders, Orange Sierra Leone CEO Seakou Amadou Bah delivered an inspiring speech at the OSVP Competition. He said the event marked the culmination of a journey that began in 2019 with the goal of empowering Sierra Leonean innovators and aspiring entrepreneurs by offering funding, mentorship, and business expansion opportunities.
The OSVP, an investment fund backed by the Orange Group, has been a driving force in supporting startups across 17 countries in Africa and the Middle East. As a leading mobile telecoms company, Orange is committed to being the premier digital partner for startups in the region, contributing to digital transformation.
The CEO highlighted the significant strides made towards digital inclusion with the opening of the Orange Digital Center in Sierra Leone last year. This center has democratized digital access, particularly for young women, providing free digital training courses. In its first year, over 1,600 young people benefited from the center, with 52% of them being women. Remarkably, more than 68% of the trained women found employment.
Moreover, in collaboration with NAYCOM, Orange launched the Women's Digital Centre in 2021, providing essential training in commercial, digital, and financial management to uneducated and unemployed women. The initiative has already graduated 126 women, and plans are underway to establish four digital centers in the provinces, two of which will be dedicated solely to women.
The OSVP competition has been instrumental in accelerating innovation in Sierra Leone, supported by Partner Innovation Sierra Leone. It aims to empower startups and innovators in the country, rewarding projects in education, healthcare, e-commerce, and agriculture that align with sustainable development goals. Notably, efforts have been made to increase female participation, fostering women's empowerment in the tech sector.
In 2022, the national contest saw Usman Yaah emerge as the winner, and on a larger scale, Joseph Koroma claimed the OSVP International Grand Prize, triumphing over competitors from 17 Orange affiliates. The competition also recognized Adeola Carew as the Tech Queen.
The CEO expressed immense excitement about the success of the competition, affirming Orange's commitment to lead the digital transformation in Sierra Leone. The company aims to provide young people with the tools to navigate the digital world and create a platform for future innovators and entrepreneurs to lead the way.
Minister of Tertiary and Higher Education, Dr. Haja Wurie said the establishment of the OSVP creates great impact in the area of Education, Health, Agriculture, E-commerce and the improvement of women's living conditions as well as supports sustainable development in Africa and the Middle East.
She further said that in the dynamic of landscape in progress technology they stand for transformational change, but that they are celebrating the 5th edition of the Orange Social Venture Prizes (OSVP).
She continued that innovation holds the key to improving the living conditions of women and empowering them as agents of sustainable development; as education has a role to play in nurturing minds and to also unlock potentials in the realm of technology.
Dr. Wurie furthered that innovation technology is empowering growth and creating opportunities and promoting innovation through E-learning platforms which help to empower young learners.
Finalists of the tech queens, Jenneh Bokarie-Barnett from Sierra Sister, Hawanatu Sesay from IOT Plant Monitoring Device and Iye Mary Brima-Sellu showcased their pitch presentations, and general grand finalist, James Samba from Electric Quadricycle, Isha Abdulai Turay from Crescent Salone, Sia Chakanda from Kene Care Virtual Hospital, Andrew Dosumu from Liquid Air Box, and Mariama Mbayoh from Cam Rent Ya, also presented their pitch to the audience and judges.
Questions were asked by the judges to all finalists, to explain how they managed to invent their pitches and what their plans are in the coming years.
Deputy Minister of Tourism and Culture Affairs, Kadijatu G.A. Kamara, who was the chief judge, congratulates all finalists for takin a huge step to show the world what they are capable of doing.
She encouraged those who might happen to lose, that they must no stop their dreams and they should bring in others to their ideas and work as a team to push further.
On announcing the winners Kadijatu Kamara applauds orange CEO for not sleeping on the dreams of young sierra Leoneans, and also to help support technology and innovation.
Hawanatu Sesay with the IOT Plant Monitoring Device emerged as winner for the Tech Queens category, with a price of NLe 50, 000, 00. And James Samba with the Electric Quadricycle emerged as winner of the general grand OSVP 2023 5th Edition, with NLe 100,000,00 winner price.
Closing courtesy of the occasion The Minister of Communication Technology and innovation, Haja Salimatu Bah, congratulated the winners of the OSVP and said that this is a huge boost for them, that they should take advantage of it.
She also encouraged losers telling them that this is not the end of their journey, and they should be determined and to work harder to make sure they achieve their dreams.
The Minister concluded by thanking Orange SL and especially the CEO for promoting Innovation and Technology, and that she is glad to witness this year's 5th OSVP edition.