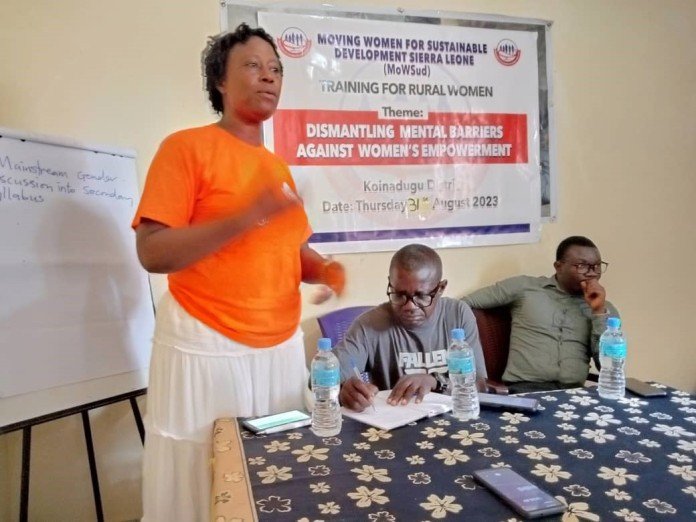 The Moving Women for Sustainable Development Sierra Leone (MoWSuD-SL) has on Thursday, August 31, 2023 hosted a transformative training program for women in Kabala, Koinadugu District, Northern Province of Sierra Leone in a significant step towards gender equality and sustainable development.
The Chief Executive Officer of the Moving Women for Sustainable Development Sierra Leone, Mariama Khai Fornah, passionately articulated their mission to combat gender-based violence, provide psychological healthcare services for victims, promote sustainable agriculture, offer civic education, engage with traditional leaders to eradicate female genital mutilation and dismantle societal barriers against women.
She said that MoWSuD-SL envisions a society where women enjoy equal opportunities, access to resources and active participation in sustainable development. Their mission revolves around empowering women through education, capacity building, and advocacy, enabling them to contribute meaningfully to their communities, adding that the organization's core values encompass Equality, Empowerment, Collaboration, Integrity and Sustainability.
Mariama Khai Fornah emphasized the organization's commitment to realizing a society where women are empowered and actively involved in sustainable development. Their strategic plan aims to create a lasting impact on the lives of women and the communities they serve.
She pointed out that the decision to establish a branch in Kabala was motivated by the pressing challenges faced by women in Koinadugu concerning gender inequality. MoWSuD-SL aspires to be at the forefront of efforts to reduce and eventually eliminate these disparities.
During the training session, led by Pastor Benson Okechukwu Onyia, participants delved into the theme of "Dismantling Mental Barriers Against Women's Development." Pastor Benson initiated the discussion with a thought-provoking quote from former Nigerian President Muhammadu Buhari, highlighting the regressive views some still hold about women's roles. He encouraged the women to take proactive steps towards achieving gender equality, with MoWSuD-SL poised to support their efforts.
Sylvanous Conteh, the Assistant Director of the Ministry of Gender and Children's Affairs and Manager of the One-Stop Centre in Koinadugu District, stressed the importance of shifting societal mindsets regarding women. He emphasized that this shift is crucial in the context of prevailing norms, cultural practices, and traditions, for achieving gender equality in Sierra Leone. He also highlighted some of the Government's initiatives to empower women.
In addition to these voices of support, Wilson Salia Koroma, the Assistant Director at the Ministry of Social Welfare, lauded the efforts of MoWSuD-SL's CEO in extending their outreach to the women of Koinadugu.
He underscored the great importance of such training and expressed the Ministry's willingness to collaborate with MoWSuD-SL. Wilson Koroma stated that the Ministry is open to providing guidance on the organization's areas of operation within the district to avoid duplication of efforts, as other Civil Society Organizations (CSOs) are already engaged in various initiatives within Koinadugu District.
Marlyn Bangura, one of the trainees, expressed her heartfelt gratitude to CEO Mariama Khai Fornah for spearheading this initiative. She pledged her commitment to applying the knowledge gained during the training and serving as an ambassador in her community to further MoWSuD-SL's goals in Koinadugu.
MoWSuD-SL's dedication to empowering women and eradicating gender-based disparities shines as a beacon of hope for women in Kabala and beyond. As Sierra Leone continues to strive for gender equality, this initiative serves as a testament to the power of education, advocacy, and community engagement in fostering sustainable development.