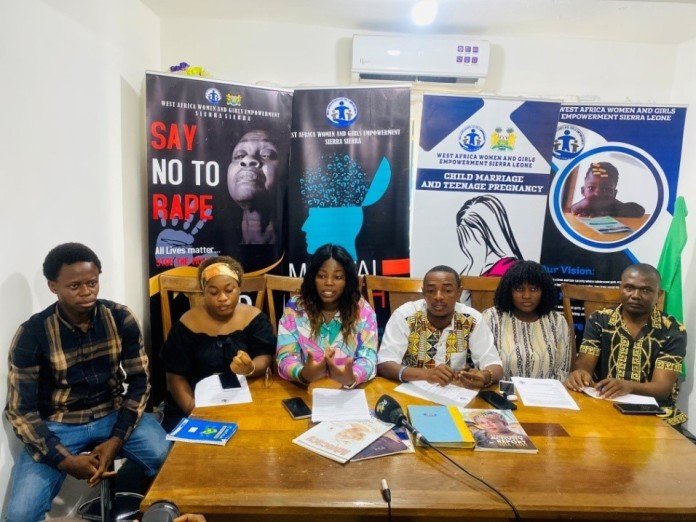 By Foday Moriba Conteh
In an exciting development, the West Africa Women and Girls Empowerment Sierra Leone (WAWGE-SL) is set to host the Girls Health Summit under the theme, "Breaking the Barriers on Adolescent Girls' Health."This announcement was made during a well-attended press conference held on Tuesday 5th September, 2023 at its Office on Skye Street in Freetown.
Addressing pressmen, the Program Director of West Africa Women and Girls Empowerment-Sierra Leone, Mariama Janneh started by giving a brief background about the organization of which she said the organization was founded on April 21, 2012 as a national Non-Governmental humanitarian organization dedicated to reducing poverty through entrepreneurship solutions, improving rural livelihoods and advocating for gender equality.
She said that their focus spans various crucial areas, including mental health awareness, girl-child education, sexual and reproductive health with a special emphasis on HIV/AIDS, agro-business, drug abuse, domestic violence, climate change, water and sanitation.
Commenting on the mission of the Summit, the Program Director noted that adolescent girls in Sierra Leone confront a range of challenges affecting their health and well-being and these challenges encompass physical health, mental health, access to education and the ability to make informed decisions about their bodies and futures.
She revealed that a primary focus of the summit is addressing the lack of comprehensive sexual and reproductive health education, imagining a young girl in a remote village with limited access to accurate information about her changing body, reproductive health, and the importance of safe practices, furthering that the knowledge gap can lead to early pregnancies, unsafe abortions, and increased vulnerability to sexually transmitted infections.
"WAWGE-SL is excited to announce the Adolescent Girls Health Summit, scheduled for October 10th, 2023, at the Freetown City Auditorium in Sierra Leone. This summit aims to empower young girls by addressing the unique health challenges they face during adolescence. Under the theme "Break Barriers on Adolescent Girls Health," the event will serve as a platform for dialogue, education, and action," she maintained.
Mariama Janneh informed all that esteemed speakers, renowned experts, and advocates in the field of adolescent and young women's health will participate, offering valuable insights through panel discussions, mentorship sessions, workshops, and interactive activities.
She noted that they are thrilled to organize this much-needed summit to shed light on the critical health issues faced by adolescent girls and young women, stating that by addressing the barriers that hinder their access to proper healthcare and by equipping them with knowledge and resources, they aim to pave the way for a brighter future.
The Program Director said that the summit will also provide a platform for stakeholders, including Government representatives, NGOs, healthcare professionals, educators, and community leaders, to unite and collaborate in developing practical strategies to enhance girls' health. Additionally, it will offer networking opportunities for attendees to connect, exchange ideas and form partnerships.
She said that Awards will be presented to Girls Champions and exhibitions will showcase innovative initiatives and projects promoting adolescent girls' health.
"WAWGE-SL remains dedicated to advancing gender equality, empowerment, and holistic development among women and girls in Sierra Leone. Through our initiatives, we have become a leading advocate for girls' rights and well-being," Mariama Janneh concluded.