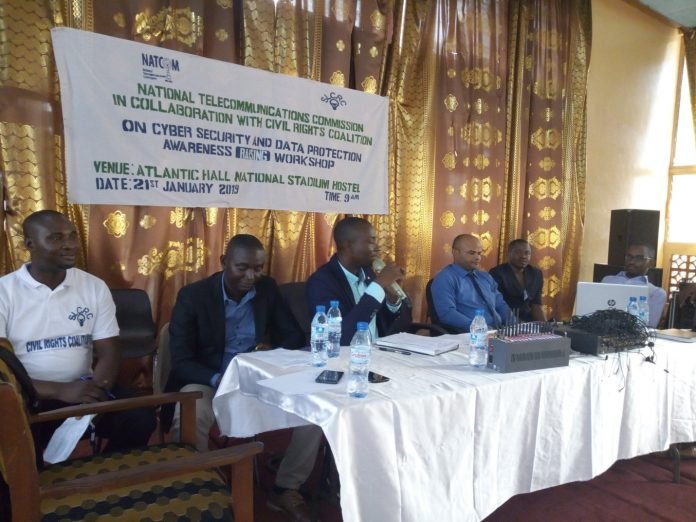 The National Telecommunication Commission (NATCOM) and the Civil Right Coalition on Monday 21st 2019 engaged students on Cyber Security Data Protection at the Atlantic Hall, National Stadium.
In his opening statement, Deputy Director General of NATCOM, Daniel Kaitibi said NATCOM has always been under attack from criminally minded people (419ers) who perpetuate illegal activities. He pointed out that the engagement is geared towards raising awareness in tackling such criminal issues. He underscored that they are working with Civil Society Organizations (CSOs), the Police, GSM Operators and others partners.
"Seeing a lot of young people here today makes me feel good because most times they are the ones engaged in such practices either because of lack of jobs or sometimes do so deliberately. But again it not only limited to hear it but there is need to take proactive steps to deal with them squarely as people have suffered and lost millions in the hands of these criminals," he maintained.
On his part the National Coordinator for Civil Rights Coalition, Alphonso Manley, said the issues of Cyber Security, Data Protection, one Gibe Fraud, Sim box fraud and Money Fraud, have become too alarming in the country which is why they have become a big concern. He noted that they are not experts in that area of fighting cyber-crimes which is why they decided to approach NATCOM, the Police and the Mobile Operators wereas they will continue to raise awareness and sensitization on those issues. He thanked NATCOM for responding to this national call.
Alphonso stated that they are targeting the youth because they make the bulk of the population that use the social media.
He added that his organization will champion the raise alarm against Cyber-crimes just as they are championing sensitization of the Free Quality Education that was initiated by President Bio.
Thaimu Ballah Sesay of the Sierra Leone Police stated that the Cyber Crime Unit was established in 2009 but at that time there were not much of such crimes other than sandbox fraud, but the magnitude of Cyber-crime is now alarming in the country because of emergence of the social media. "We also have Bank fraud, internet fraud, Electronic Money transfer fraud, phone theft, robbery and murder and all these crimes are connected with Cyber-crime," he stated.
He stated that the Electronic Money transfer fraud (Airtel Money and Africell Money) is really alarming right now as the criminals are using the name of high profile authorities to defraud people.
He stated that political rivalry, student rivalry, are some of the factors that are responsible for committing Cyber-crimes and it is common among youths especially students. The use of the social media to publish false stories to malign others is again is another issue, he added.
"We are faced with serious challenges in terms of laws to penalize perpetrators. We only use the Public Oder Act of 1965, and the fines are too small. For sim box fraud we use the 2005 NATCOM Act which is why we welcome the repealing of it," he furthered.