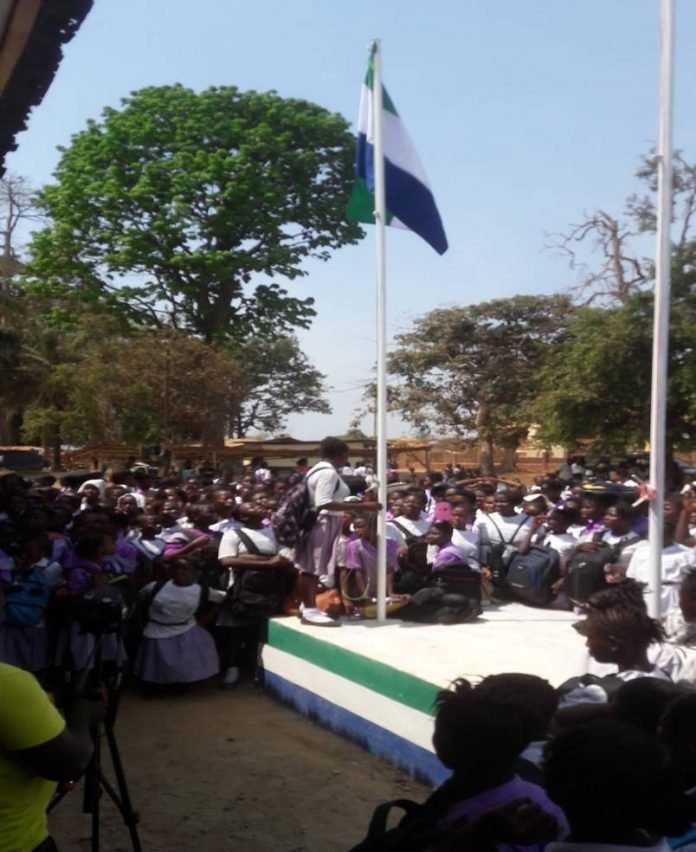 Commissioner Mariam Samu who is heading the Southern Regional Office of the National Commission for Democracy has commissioned a platform and flagpole Project at the Methodist Girls High School along Gerihun Road, Bo.
Making a statement, Commissioner Mariam Samu said in the past, schools across the country used to mount the National flag while observing their daily devotions adding that the practice had died down decades ago.
Reiterating reasons for selecting the Methodist Girls High School for the donation, Commissioner Samu said during one of their numerous visits to schools together with their Regional Programme Manager, Andrew George, they realized that the school hasn't a flagpole platform and the country' s prestigious national flag noting that they cannot afford having a school without the National Flag.
She underscored the relevance of the national flag, National Pledge and the National Anthem describing them as symbols that bind national cohesion.
She noticed among plethora of issues that most pupils can't read the National Anthem and Pledge effectively citing a prominent Sierra Leonean who did the same thing in the Well of Parliament and therefore craved the indulgence of the school authorities to make it a point of duty daily to allow their pupils to recite the National Anthem and Pledge adding that they should also know the lines and appreciate the relevance attached to each line, verse and stanza.
"We at the National Commission for Democracy are preaching national unity and national cohesion; it is only the Green, White, and Blue that will relate our citizenship. It is a vital form of identity which every Sierra Leonean must endeavor to embrace," Commissioner Mariam Samu pointed out.
Principal, Methodist Girls High School, Madam Lucy Ann Mansaray thanked the NCD staff for the donation describing it as timely. She said the school was established on September 24th, 2007 with just 22 pupils; today she went on amid the challenges, they are proud of having an enrolment strength of over 800 girls.
Head Girl of the School, Marie P. Foday commended the NCD Staff for their kind gesture and promised on behalf of her colleagues to learn and appreciate the words, lines, verses, and stanzas in both the National Anthem and Pledge.
Donation of a Roll Up Stand and Civic Education Materials to the administration of the School climaxed the ceremony.