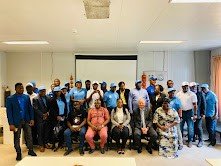 By Foday Moriba Conteh
August 10th every year is celebrated as Africa Civil Registration and Vital Statistics Day. The day is set aside to increase public awareness on the importance of the timely registration of vital events, particularly births and deaths, through well-functioning civil registration and vital statistics systems.
It was against this background that the National Civil Registration Authority (NCRA) has on Thursday 10th August, 2023 joined other Africa countries to commemorate this year's Africa Civil Registration and Vital Statistics Day in the country on the theme: "The Potential to Increase Coverage, Improve Quality and Timeliness of Data through Digitization of Civil Registration Systems." An event to commemorate the day was held at the 34 Military Hospital on Wilberforce in Freetown.
Speaking during the event, the Director General of the National Civil Registration Authority (NCRA), Mohamed Mubashir Massaquoi, intimated how the Africa CRVS Day was adopted during the 32nd Ordinary Session of the AU Executive Council in 2018 to be the vehicle to enhance advocacy on the importance of CRVS Systems for Africa's growth and development and the event serves as an occasion to voice support to country, Regional and Global commitments to strengthen CRVS Systems and increase stakeholder coordination by maximizing available CVS resources.
He reaffirmed Government's commitment to transforming and modernizing CVS Systems in Sierra Leone and across the African Continent through digitalization of which he used the opportunity to intimate how Sierra Leone has made monumental strides in achieving the desires of the APAI CRVS, the AU and UNECA. The Director General pointed out that from the darkness a light thus emerged from uncertainty out of which they have built hope saying from small beginnings greater things are beginning to come.
He said that with support from UNICEF, NCRA launched and introduced Electronic Registration as well as putting in place a Securitized Certificate System, noting that over 200,000 citizens and other residents have had their Births, Adoptions, Marriages, Divorces and Deaths registered and linked digitally to the ID Management System of NCRA.
The Director General said the APAI CVS and other Experts have provided clear guidance and recommendations on integrating and digitalizing CRVS and ID Systems.
He used the opportunity to express gratitude to UNDP, UNICEF, UNFPA, Irish Aid and the EU for supporting the GoSL to integrate the CRVS and Identity System and Digitization Process they are currently undergoing.
The Deputy Representative of the United Nations Population Fund (UNFPA), Sibeso Mululuma, said the theme for this year's commemoration underscores the need to strengthen the civil registration system through digitization in order to improve quality and timeliness of data.
She added that a well-functioning CVS system is the best source of continuous and up to date information on birth, death and population statistics, stating that these statistics in turn serve as the denominator for a wide range of population-based targets and indicators in the SDGs.
Sibeso Mululuma concluded her statement by reaffirming UNPA's commitment to collaborate with the Government, alongside other stakeholders in strengthening the country's civil registration system, which will in turn steer Sierra Leone towards the effective measurement of progress towards the aspirations of the SDGs and the Africa 2063 Agenda.
The UNICEF Representative, Rudolf Schwenk, described the efforts by the Government as very important towards driving positive change in civil registration and improving the quality of vital statistics maintain how such will go a long way in securing a brighter future for all.
He said that only last year the birth of 155,725 children (78,985 girls and 76,740 boys) under five years of age was registered, and Sierra Leone is proudly among the 20 African countries on track to meet the targets of 16.9.1 on assuring legal identity for all.
Rudolf Schwenk called on all to strive to chart a course toward comprehensive, efficient and inclusive civil registration systems to accelerate progress towards universal CRVS coverage by revising laws and policies to address all discriminatory provisions and extend the timeframe for timely and free registration of births up to 1 year , adopting a one-stop approach for new-born registration and certification that is entirely interoperable with health and immunization systems, including in humanitarian contexts, gradually and optimally digitalizing CRVS systems ( having a combination of paper based and digitized system).
Giving the keynote address, the Minister of Gender and Children's Affairs, Dr. Isata Mahoi, said that the implications of inadequate vital statistics cannot be underestimated, adding that for women, the lack thereof increases their vulnerability to gender-based violence, including domestic abuse, property dispossession, sexual violence, and restricted child custody rights.
Similarly, for young girls, incomplete vital statistics pose obstacles to accurate age determinations, exacerbating issues such as child marriage, adolescent pregnancies, female genital mutilation, and other forms of child cruelty.
She maintained that the digitalization of civil registration systems in Africa has the potential to greatly increase coverage, improve data quality, and enhance the timeliness of vital statistics and that civil registration is the process by which vital events such as births, deaths, marriages, divorces, and adoptions are officially recorded and documented by the Government.
She informed that Sierra Leone's steadfast commitment to bolstering Civil Registration and Vital Statistics (CRVS) systems resonates within the larger tapestry of regional and global progress.
"As we embark on this transformative journey, we stand in harmony with our fellow nations, each striving to enhance CRVS mechanisms as a cornerstone of social development," the Minister underscores and called on all to resolve to strengthen coordination and collaboration in the collection of vital statistics to enhance human capital development.
The Minister ended noting that vital statistics hold the potential to catalyze the realization of the transformative goals outlined by His Excellency President Julius Maada Bio in the pivotal "Big Five Game Changers."