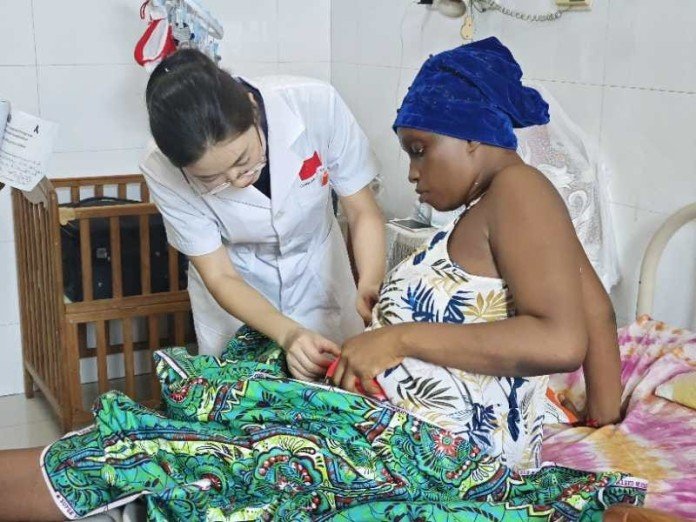 By Foday Moriba Conteh
Hawanatu, a patient from Freetown Sierra Leone, was admitted to the gynecology department of the China-Sierra Leone Friendship Hospital two years ago due to, "primary infertility, increased menstrual volume and secondary anemia". At that time, Sun Xin, the Deputy Chief Physician, also a gynecologist of the 22nd Batch of China Medical Team to Sierra Leone, personally received the case and after completing the relevant examination, she concluded that the primary infertility and increased menstrual volume were caused by multiple uterine fibroids.
A laparotomy of multiple uterine fibroids was performed under spinal canal anesthesia in mid-August 2021, and the postoperative menstrual volume of the patient was significantly reduced and as well the anemia was corrected.
One year later, Hawanatu tried to get pregnant and soon had good news. Yu Ling, Deputy Chief Physician and obstetrician of the 23rd Batch of China Medical Team to Sierra Leone, checked her regularly and asked her to supplement vitamins, calcium and iron on time, closely monitoring her and the fetus.
After the Deputy Chief Physician, Yu Ling, returned to China, Dr. Wu Yu, the obstetrician of the 24th Batch of Medical Team, became the doctor in charge of Hawanatu. Hawanatu had signs of pre-term labor at 32 weeks+ of pregnancy, and Dr. Wu Yu told her to rest, avoid strenuous activities and gave drugs to promote fetal lung maturity.
It was reported that by August 3, 2023, Hawanatu had reached 35+ weeks in her pregnancy. After afternoon activities, Hawanatu gradually developed lower abdominal labor pains, which showed a trend of aggravation and more frequency. Dr. Wu Yu found out that Hawanatu had relatively regular contractions and slight tenderness in the abdominal scar, so she immediately arranged an emergency cesarean section operation.
The child was born at 23:30 on August 3rd, 2023. The operation went smoothly and both mother and child were safe. The operating room medical staff that witnessed Hawanatu's two operations also highly affirmed the medical ethics and skills of the medical teams.
In this case, the experts of the medical team successfully performed multiple uterine myoma removal surgery on the patient, guided contraception and pregnancy preparation after surgery, and escorted her during pregnancy; finally, the cesarean section was implemented to help the patient successfully give birth to a healthy baby. The whole process is liken to a precious seed which falls to the ground, takes root, germinates, spits out leaves, blossoms and bears fruit under the care of several medical teams.
This year marks the 50th anniversary of China sending medical teams to Sierra Leone. Over the past 50 years, China has sent more than 500 long-term and short-term medical and health experts to Sierra Leone, treating more than 800,000 patients and performing more than 100,000 operations.
Generation after generation of medical team members have demonstrated  selflessness, loyalty to their duties, willing to contribute in difficult conditions to provide quality medical services to the local people.