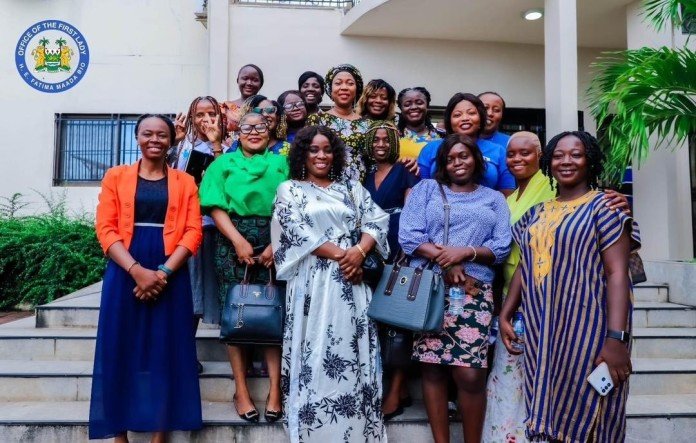 By Abubakarr Harding
In a significant step towards promoting gender equality and addressing pressing concerns, a delegation from Women in the Media Sierra Leone (WIMSAL) on Tuesday August 8th 2023 paid a courtesy visit to the esteemed office of Her Excellency Madam Fatima Bio, the First Lady of Sierra Leone.
During the meeting, Madam Eastina Taylor, President of WIMSAL, eloquently elucidated the organization's mission and applauded the impactful endeavors undertaken by the First Lady's Office, notably the influential "Hands Off Our Girls" flagship initiative along with other commendable programs. In her address, Madam Taylor underscored the pivotal role of amplifying women's voices, challenging stereotypes, and advocating for gender parity.
Since its inception, WIMSAL has remained actively engaged in promoting awareness and advocating for various issues affecting women, including the critical subjects of Sexual and Gender-Based Violence and domestic abuse.
Yet, the organization has encountered persistent challenges, including hurdles related to institutional frameworks, access to vital data and information, and the capacity to effectively address these issues. Recognizing these obstacles, Madam Taylor graciously appealed for the First Lady's collaborative support through strategic partnerships to surmount these impediments and foster a secure environment in Sierra Leone where women and girls can flourish, even in leadership roles.
Responding with grace and enthusiasm, the First Lady commended WIMSAL for its unwavering commitment and expressed her keen interest in actively engaging with the organization's endeavors. She underscored the significance of capacity building and pledged her backing through initiatives such as scholarships and other empowering activities.
Urging WIMSAL to leverage their platform effectively, the First Lady emphasized the importance of collective action to address women's challenges. She specifically highlighted President Bio's unwavering dedication to women's empowerment and his intent to address the critical matter of child marriage within the national policy framework this year.
The First Lady's message was one of unity, encouraging WIMSAL to transcend political divisions and stand united in their efforts to amplify the struggles faced by women and girls across the nation. She hailed recent achievements, including the successful passage of the 30% gender quota bill in Parliament and the notable increase in women's representation within the Government under President Bio's leadership.
Underscoring a vision for a prosperous future, the First Lady exhorted WIMSAL to remain steadfast in their advocacy efforts, unencumbered by political or societal barriers. She concluded by reiterating her commitment to addressing child marriage through policy reforms and urged WIMSAL to continue employing their powerful mediums of communication to drive positive change.
As the productive meeting drew to a close, both parties conveyed their shared enthusiasm for future collaboration and a mutual dedication to advancing the rights and well-being of women and girls throughout Sierra Leone.