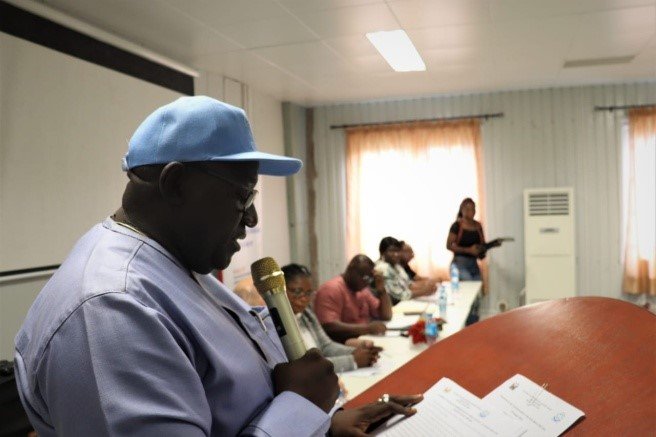 By Amin Kef (Ranger)
The National Civil Registration Authority (NCRA), a once moribund institution, which previously was an entity considered to be a dumping ground for certain Civil Servants, is today in the limelight , both nationally and internationally, as one of the  most important Government institutions in the country. Since the appointment of Mohamed Mubashir Massaquoi, as the Director General of the NCRA, the institution has undergone tremendous transformation, went through a re-birth and has now become an envy in Africa for the great strides it has taken and continues to take in order to modernize Civil Registration and the recording of Vital Statistics.
Under his leadership, Sierra Leone has emerged as a vanguard in propelling the digital transformation of Civil Registration and Vital Statistics (CRVS) systems across the African continent. Noteworthy progress in harnessing digital technologies to streamline data management within the National Civil Registration Authority (NCRA) has been spotlighted, marking significant strides towards efficient governance and elevated public services.
In a broadcast statement on August 10, 2023, the Director General of Sierra Leone's National Civil Registration Authority, Mohamed Mubashir Massaquoi, highlighted the significance of the 6th commemoration of Africa Civil Registration and Vital Statistics (CRVS) Day. This annual event, endorsed by the African Union, serves as a pivotal platform to emphasize the pivotal role of CRVS in contemporary society.
Under the theme "Enhancing Coverage, Quality, and Timeliness of Data via Digitalization of Civil Registration Systems," the 6th Africa CRVS Day marked the 14th year since the inception of the Africa Programme for Accelerated Improvement for Civil Registration and Vital Statistics (APAI-CRVS). The decision to observe CRVS Day was ratified during the 32nd ordinary Session of the AU Executive Council in 2018, aimed at amplifying advocacy for robust CRVS systems within Africa's developmental trajectory.
Furthermore, the occasion serves as a call to fortify commitments for refining CRVS systems and bolstering collaboration among stakeholders.
In a broadcast communication by NCRA's Director General, Mohamed Mubashir Massaquoi, the profound advancements achieved by Sierra Leone in enhancing the Digitalization of Civil Registration Systems were unveiled.
He underscored Sierra Leone's substantial progress, orchestrated through the NCRA in collaboration with governmental support and partnerships, most notably with the European Union, Irish Aid, UNICEF, UNDP, UNFPA and Plan International Sierra Leone. These collective efforts have expedited the digitalization of historical and contemporary CRVS records.
Massaquoi revealed the launch of the digitalization initiative to convert historical birth and death records from the 1800s into electronic formats, enabling convenient archiving, retrieval, and curbing identity manipulation for fraudulent purposes.
He expounded on further collaborative endeavors, particularly with the European Union through UNOPS, which led to the modernization of the CRVS system, enabling efficient storage and processing of identity data while interconnecting with various E-Government systems and partner institutions.
Moreover, in tandem with the European Union's support, Sierra Leone established a pioneering Tier III Primary Data Centre, a first in the sub-region, aimed at safeguarding CRVS data in instances of natural or other emergencies.
Massaquoi also revealed collaborative efforts with UNICEF that introduced counterfeit-proof Securitized Registration Credentials and Instruments to combat fraudulent certificates. Support from Irish Aid and UNDP enabled the implementation of a secure enterprise Data Extraction, Transformation, and Loading layer (ETL) for seamless data transfer between the NCRA and ECSL, crucial for updating the Voter Register upon citizens reaching voting age.
The Director General also lauded the provision of Fibre connectivity, a result of joint efforts from Irish Aid and UNDP, facilitating seamless data synchronization between NCRA and ECSL for Voter Register updates.
Massaquoi further disclosed the launch of an ID Verification Platform, ratified by Cabinet and Parliament with the endorsement of Sierra Leone's President, Dr. Julius Maada Bio, effectively linking various services to the unique identifier generated by the CRVS and Identity Management System.
He underscored Sierra Leone's pioneering status in African CRVS and ID Management System digitalization. However, he emphasized the necessity to sustain momentum in advancing digital processes across the nation.
Key areas of focus include expanding Births and Deaths Registration beyond districts to communities, necessitating skilled personnel, connectivity, electricity, IT equipment, and public education.
Massaquoi extended gratitude to the Sierra Leonean Government, particularly President Bio, as a CRVS champion, and acknowledged the support of EU, UNICEF, Irish Aid, UNDP, UNFPA, Plan International, and other partners for modernizing CRVS systems in alignment with the AU's vision for continent-wide digitization.
He also shed light on the 6th Africa CRVS Day, highlighting its strategic role in reflecting, strategizing, and promoting awareness of CRVS's contemporary relevance. The day has marked the 14th year since the inception of APAI-CRVS and aligns with AU objectives to fortify CRVS systems and coordination.
Massaquoi noted that this year's commemoration further commits African nations to modernize CRVS systems through digitization, with a focus on identity services for governance, health, education, and public administration.
Highlighting the importance of digitization, he stressed data protection, system interoperability and data-sharing practices as pivotal in advancing African countries toward SDG16.9.
Massaquoi encouraged African nations to integrate digital CRVS processes as part of essential public infrastructure, enabling the linkage of Civil Registration and Vital Statistics data with identification data across Government agencies.
Digitalization transforms Civil Registration from passive to proactive systems, strengthening data accuracy and notification processes, and improving collaboration between Civil Registration authorities and the health sector.
In sum, Sierra Leone's pioneering advancements in CRVS digitalization have positioned it as a model for the African continent, furthering efficient governance and public service delivery.