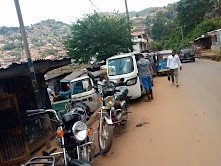 By Alvin Lansana Kargbo
In a recent press release issued on August 17, 2023 by the Sierra Leone Police, introduces a set of new parking regulations have ignited concerns among garage owners who rely on public roads to conduct their businesses. The regulations, effective on 1st September, 2023, prohibit the parking of vehicles, motorcycles, and tricycles on public roads. Furthermore, garage owners are now forbidden from utilizing any part of the roads to store their vehicles. The announcement stresses the importance of removing all abandoned or under-repair vehicles from the roads.
The implementation of these regulations has sparked anxiety and uncertainty among garage proprietors who heavily depend on these spaces for their livelihoods. Owners have come forward to voice their apprehensions regarding their future prospects.
Osman Bangura, owner of a longstanding tricycle garage on Black Hall Road, has conveyed his worries about the sudden changes. He highlights that the garage provides gainful employment to young individuals, offering an alternative to engaging in illicit activities.
He expresses shock at the press release and contemplates the feasibility of sustaining his business and supporting his employees' families if relocation is mandated. In a plea directed towards the government, he appeals for an extended transition period considering the current economic adversities faced by the nation.
Foday Brima Kella, operator of a motorbike garage in Dwarzark, concurs with the need to abide by the law and the directives of the authorities.
He implores the government to take into account the living conditions of garage workers, for whom the garages serve as their primary income source.
Foday Brima Kella notes the loyalty of their clients and the familiarity they have with the garages' presence in the area. Despite their desire to comply, the new regulations leave them feeling disempowered. Kella, drawing from his own nearly two-decade experience, underscores the significant impact of these abrupt changes and entreats the government for leniency, urging a reconsideration of the regulations' strict enforcement.
Alhaji Alieu Barrie, proprietor of a garage in Lumley, voices his commitment to adhering to the law and acknowledges the unchallengeable authority of the legal system. He underscores the vital role of garages in sustaining their lives and those of their families. Barrie emphasizes that the vehicles parked outside his garage are usually temporary, not intended for prolonged stays. He beseeches the government to recognize their circumstances and extend the compliance timeframe, asserting that the current window is insufficient to make the necessary adjustments.
As Sierra Leonean garage owners unite in expressing their concerns regarding the newly introduced parking regulations, their fears of financial instability loom large. Their collective appeal to the government hinges on a plea for understanding, support, and a pragmatic consideration of their living conditions and the economic challenges facing the nation. They hope for a possible extension of the implementation period to enable a smoother transition into compliance.