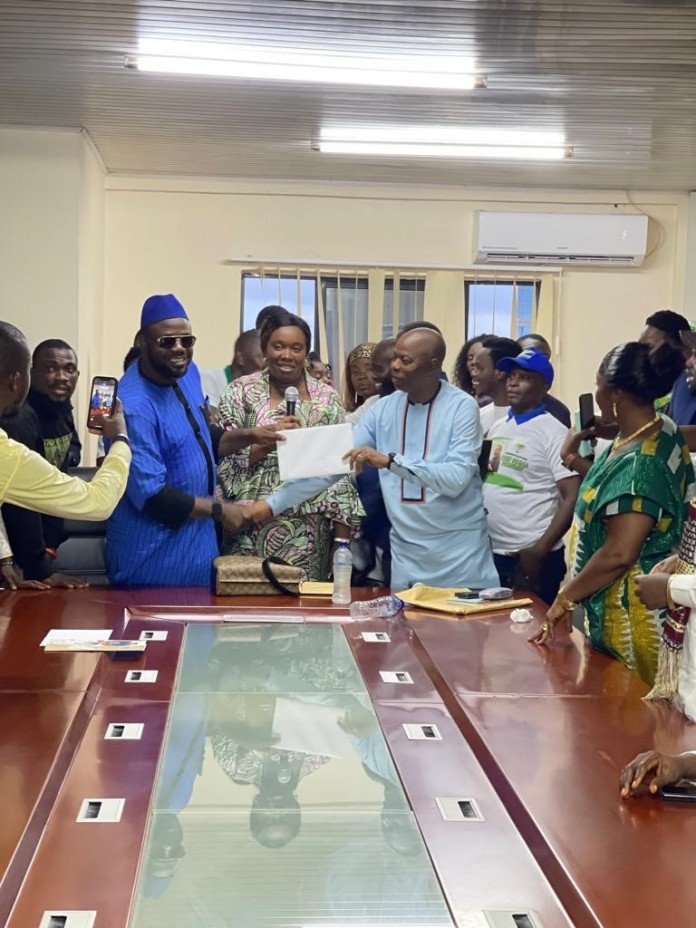 By Amin Kef (Ranger)
It was a momentous event on Thursday, July 27, 2023, as the National Revenue Authority (NRA) formally welcomed its newly appointed Commissioner General, Ibrahim Swaray. The ceremony, held at the NRA headquarters on Gloucester Street, Freetown, was presided over by Tuma Adama Gento-Kamara, the Board Chairperson, who expressed gratitude to the outgoing Commissioner General, Dr. Samuel S. Jibao, for his five years of exemplary service in revenue mobilization.
In her opening remarks, Tuma Gento-Kamara referred to the NRA as the "breadbasket of Sierra Leone," emphasizing the critical role it plays in revenue collection for the nation. She extended a warm welcome to Ibrahim Swaray, highlighting that revenue optimization remains the most cherished asset for the institution. The Board Chairperson assured the new Commissioner General of unwavering support from the Board, pledging to assist him in every possible way.
In his farewell address, Dr. Samuel Jibao expressed gratitude to President H.E. Dr. Julius Maada Bio for the opportunity to serve as Commissioner General. He commended the Board and Management for their professionalism throughout his tenure. Dr. Jibao recounted the significant achievements during his administration, which included restructuring the NRA, implementing measures to enhance staff integrity, improving tax compliance and revenue growth, ensuring timely payment of salaries, asset acquisition and protection, and implementing revenue administration reforms.
Regarding revenue mobilization, Dr. Jibao highlighted the steady increase in domestic revenue over the years, with the fiscal year of 2021 recording the highest gains despite the challenges posed by the COVID-19 pandemic in 2020. He also acknowledged that domestic revenue in the first quarter of 2023 was 41% higher than previous years.
The outgoing Commissioner General acknowledged the challenges faced by the Authority, such as implementing multiple reforms, managing change and dealing with weak national ICT infrastructure. However, he expressed confidence in the capability of the NRA to overcome those hurdles and continue making progress under the leadership of the new Commissioner General.
In his brief address, Ibrahim Swaray praised Dr. Jibao for his exemplary work and dedication to the NRA emphasizing his belief in the institution's strength and promised to surpass revenue targets. He acknowledged that success would be achieved through teamwork, relying on the experience and support of his predecessor and the entire NRA staff.
Drawing from his experience as the former head of the National Public Procurement Authority (NPPA), Swaray emphasized that administration was not new to him. He expressed his commitment to building on the successes of the NRA, utilizing his expertise to drive further growth and efficiency within the organization.
It is the expectation that with the appointment of  Ibrahim Swaray as the new Commissioner General, the NRA and Sierra Leone look forward to a continued trajectory of enhanced revenue mobilization and fiscal growth under his capable leadership.
The institution, it is said, remains steadfast in its mission to contribute significantly to the nation's development and economic prosperity.