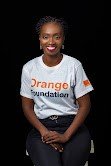 After years of philanthropy, Orange Foundation looks back at how far they have come with the 50 Ebola kids who have been in the care of SOS with welfare support from Orange Foundation in partnership with SOS and Ministry of Social Welfare.
Orange Sierra Leone (OSL) Foundation, led by Jestina Betts, is the company's humanitarian wing that lends a helping hand to the needy, vulnerable and less privileged in society. 
The company has done a lot in caring for children whose parents succumbed to the deadly Ebola Virus which struck Sierra Leone in May, 2014, a virus that left the country ravaged for two years. Sierra Leoneans breathed a sigh of relief in November, 2016 after the virus was declared over by Government but the aftermath of its effect in the country could not go unnoticed as the deadly virus left behind many orphans. Hence Orange SL through its Foundation, in collaboration with SOS, came to the rescue of 50 Ebola kids young as six months old to be placed in the care of SOS Children's villages across the country.
These children have been sparsely assigned to the various SOS campuses across the country. Makeni campus North of Sierra Leone hosts 18 Ebola kids, Bo campus in the South holds 21 while Sierra Leone's capital, Freetown have 11 making a total of 50.
Orange Foundation takes care of the children's education by ensuring that they have access to quality schooling and learning opportunities. 
The Foundation also caters for the children's basic needs especially food and medical care until they turn 18.
 In addition to basic care, the company also looks after other aspects of the kids' education, a move that spells a brighter future for the kids since investment in education has no equal anywhere in the world.
 With education, the kids ,after they become well-educated adults can positively contribute to national development when it is time to come on the stage of action.
Having it as a humanitarian obligation, the Foundation authorities often pay visit to the Ebola-affected children to get first-hand information about their well-being.
"…the OSL Foundation frequently pays courtesy visits to the children showing that we genuinely care for their welfare, and are actively involved in ensuring that they are doing well. Additionally, we send donations and hampers every year for the kids," Jestina Betts informed the press about their valuable donations to the kids.
Such initiatives, Jestina says, showcases the positive impact businesses and organizations have on their communities especially during times of crisis and other life-threatening situations.
OSL's/OSLF on-going commitment to these children showcases the power of corporate social responsibility and highlights the importance of long- term support in creating lasting positive change," OSL Foundation Director tells the importance of caring for the vulnerable.
It is heartening to see that OSL Foundation and SOS are not only focused on the kids' immediate welfare needs but also consider their transition into adulthood and support them during this critical phase of life.
These personal visits have a significant, positive impact on the children as it fosters a sense of belonging and reminds them that they are part of a larger supportive community.
The humanitarian move is a bright and inspiring example of corporate social responsibility and collective effort in making a difference in the lives of those in need.
Orange Foundation deeply appreciates the hard work and commitment of its partner SOS through the Country Director, Madam Sophie Ngong, for providing a safe and friendly home to these orphans.