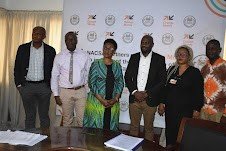 By Abubakarr Harding
An agreement was signed on the 13th March, 2023 between Orange SL and the National Commission for Social Action (NaCSA) for the third phase of the Emergency Cash Transfer (ECT) using mobile money.
According to the Senior Director of Social Protection at NaCSA, the social safety net project is the country's flagship project that provides income to low-income earners and vulnerable individuals. He said it is a contingency emergency response component of the World Bank to support vulnerable beneficiaries impacted by the global economic crisis.
He further revealed that the beneficiaries are elderly-headed households, female-headed households, and households with persons with disabilities in 11 district towns and that Orange Money was selected to deliver cash transfers amounting to 2,666 new leads to 35,000 beneficiaries.
David Mansaray, Orange Money CEO, expressed his excitement over the partnership, saying that it had been a long journey since they tried to engage NaCSA in 2019 adding that Orange Money had grown over the years and worked with various institutions to provide similar services. Highlighted was that the ECT will contribute to economic growth and the funds will be used for the right purpose.
Mansaray assured NaCSA, ACC and everyone that Orange Money is the right platform that can provide transparency, accountability, and security for all funds.
He disclosed that Orange Money has worked on similar projects with the WFP, WHO, and other big institutions, including Ebola victims and vulnerable societies during the COVID-19 crisis underscoring how they are committed to deliver the project and contribute to the overall scope of financial inclusion in Sierra Leone, driving the country into a cashless society.
Mobile money cash transfer has been proven to be effective in other countries. In Bangladesh, a study showed that mobile money transfers to women increased household expenditure on healthcare and education by 22% and 15%, respectively. In Kenya, mobile money transfers to smallholder farmers increased agricultural productivity by 25%. Mobile money has also been proven to be an effective tool for emergency cash transfers in countries like Zimbabwe, Nigeria, and Malawi. Mobile money technology has the potential to reach populations that are unbanked and have limited access to financial services. It reduces transaction costs, provides convenience and security, and enables remote transactions.
"We are monitoring and observing this milestone signatory to ensure that it is transparently executed and brings a whole transformation into the cash transfer process," said Patrick Morovia of the Anti Corruption Commission.
He thanked NaCSA for giving ACC the opportunity of being part of the process.
It must be noted that the partnership between Orange Money and NaCSA is a significant step towards financial inclusion and poverty reduction in Sierra Leone. The cash transfer using mobile money is an effective tool to provide support to vulnerable individuals during times of crisis. With the success of the ECT, more partnerships between mobile money providers and Government agencies are likely to be entered into to promote financial inclusion in Sierra Leone.