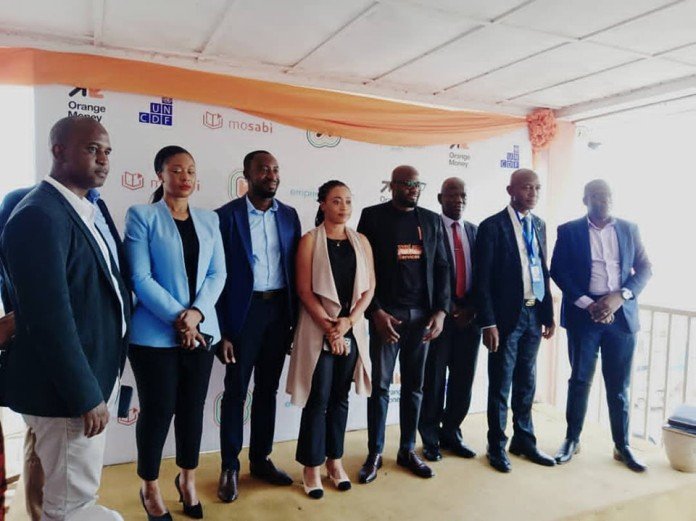 By Millicent Senava Mannah
In a bid to improve and make the digital Eco-space sustainable especially for Sierra Leonean youths, one of the biggest and most reliable mobile network operators in the country, Orange-SL, through Orange Money, in partnership with Empire Solutions, Mosabi, and UNCDF, have wrapped up a one year project promoting digital inclusion and enhancing financial literacy. The auspicious event took place on Wednesday 30th November 2022, at Orange-SL headquarters on IMATT.
The theme of the event, "Improved Access to Digital Financial Services" shed light on digitalization, financial inclusion and women empowerment in Sierra Leone.
Eric Mortem, highlighted that the purpose of the gathering is to wrap up the financial inclusion project with Orange Money, Empire Solutions and Mosabi.
He went on to state that the event marked a lucrative journey that started over a year ago and it's a project funded by the United Nations Capital Development Fund (UNCDF), with the motive to enhance innovation skills, promote financial literacy, and assess the impact of sustainability of the project.
The Orange Money CEO, David Mansaray, in his keynote address, said that sometime last year they entered into a partnership with Mosabi and Empire Solutions to win a Bid worth USD 150.000. He went on to state that the main objectives of that bid was to promote financial literacy, expand access to finance, recruit and train over 10.000 female agents. He added that each partner plays a key role to ensure that the dream was actualized with Mosabi responsible for the financial literacy, Empire Solutions was responsible for modernizing and providing the space for financial loans, whilst Orange money recruited and trained the agents.
He further stated that they have trained over 10.000 customers on financial literacy, and they were able to expand on the scope to promote entrepreneurship and teach customers how to promote their businesses to seek financial loans and how to maintain those loans – and they were encouraged to use most of the Orange Money services, as the objective was to enable them to access loan facilities in which Empire Solutions aided in that area.
David Mansaray affirmed that over 57.000 customers were able to access loans which cost around 3.5 million dollars.
He asserted that they have been able to put the money into good use and most have benefited from the project, thanks to Empire Solutions further highlighting that the other objective they achieved was to recruit female agents – as before, they used to have about 300 female agents, but now they have been able to recruit over 2.000 female agents and now they represent over 15% of the agent scale. "This has been very successful as now someone that was once unemployed is making a minimum of 950 Leones a month," he said.
He mentioned that they were able to achieve all those objectives through the support of all partners and the UNCDF.
Orange money is not only providing financial services, but also creating a platform for the financial service literacy of all Sierra Leoneans.
He thanked partners and the central bank for their support saying going forward they are looking to having more partners and support to help push the financial digital Eco-space towards a positive upward trajectory and eradicate poverty.
The UNCDF Country Lead, Wycliffe Ngwabe, in his statement, acknowledged that he is honored to be part of such a wonderful gathering. He added that it is an unprecedented time in history, with the COVID-19 and the Ukraine/Russia war exacerbating pre-existing vulnerabilities across the globe and Sierra Leone has not been spared. He went on to say that exactly a year ago, the United Nations Capital Development Fund (UNCDF) partnered with Orange Mobile Financial Services in a consortium of Orange, Mosabi and Empire Solutions to improve distribution of Digital Financial Services in Sierra Leone leveraging innovative agent models, financial and digital literacy, and digital credit. The project aimed to focus on women, youth, and low – income – segment of the population.
He underscored that in Sierra Leone, the financial inclusion rate is 29% and for women it is 25%. This is according to the Global Index report 2021. He further stated that to accelerate financial inclusion there is the need to drive digital financial services (DFS) since we cannot continue to depend on brick – and – mortar structures.
There has been a lot of work done in the DFS space in Sierra Leone over past years but there remains a lot more to be done.
Mobile Money Operators, Commercial Banks and other DPS providers have tried to develop the ecosystem under the leadership of the Bank of Sierra Leone (BSL) but there is the need for more collaborated efforts through partnerships and integrations. He affirmed that the project is in line with the Sustainable Development Goals (SDGs) 1. No poverty; SDG 5 Gender Equality; SDG 8, Decent work and economic growth; and SDG 10, Reduced inequalities."The UNCDF and its sister UN agencies are committed to working with you all to achieve the UN Sustainable Development Goals At the time of the start of the project, only 4% of the mobile money agents in Sierra Leone were women, Financial and digital literacy was low , and the digital loan product popularly called orange money 'lajor' was well suited to the needs of the target market and thus required some enhancement," he said.
He continued that building on the successes of the project, the future for DPS in Sierra Leone is bright. There is the need to extend the innovation to Village Savings and Loans Associations (VSLA) and other informal savings and credit groups by designing solutions that will mimic their methodology. There must be the right use cases and value proposition for the customers to want to go digital. The partnership with the consortium of Orange, Mosabi and Empire is evidence of how collaboratively a lot can be achieved within the industry. He urged players within the DES space to continue to work together towards building a strong digital ecosystem
"We are appreciative of your hard work and efforts and we look forward to more innovations and partnerships in the future.
Chris Czerwonka – Founder & CEO of Mosabi said that boosting of financial services is uniquely aligned with their mission to improve financial inclusion in Sierra Leone. He went on to say that they are happy to partner with Orange Money to see that the youthful population is included in the financial Eco space, as that is also the vision of the Bank of Sierra Leone.
The Central Bank Assistant Director of Development Unit – Momoh L. Sesay, expressed his sincere thanks and appreciation for such an event. He added that he is extremely delighted that such events are more focusing on women and Youths in Sierra Leone. He went on to say that the financial literacy in Sierra Leone is 21% and they are trying to breach the gap of financial literacy to ensure that every Sierra Leonean is well equipped with knowledge about the digital financial Eco-space. He went to say that it is good to have organizations that are willing to help with financial services and transform the nation positively.
The event climaxed with a short video of the beneficiaries who went through and benefited from the process.