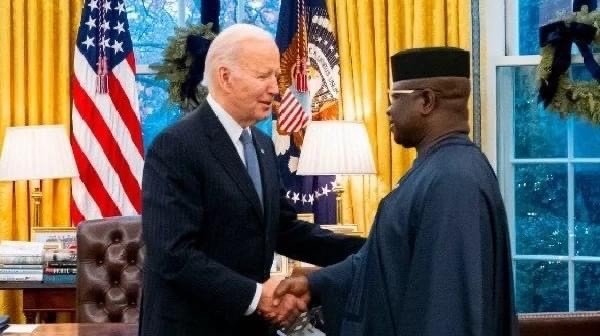 By Amin Kef (Ranger)
David Dale Reimer, the departing Ambassador of the United States to Sierra Leone, has encouraged opposition parties, particularly the All People's Congress (APC), to engage in discussions with President Julius Maada Bio's Government. During an interview on Radio Democracy 98.1 regarding the US stance on the recent Sierra Leone elections, Reimer emphasized the importance of dialogue among all parties for the nation's progress towards the next election in 2028.
"We've also called for dialogue between all parties to pave the way for Sierra Leoneans to move forward and prepare for the upcoming 2028 election," Reimer stated. He further appealed to the APC not to boycott participation in the Government, stressing the significance of a functioning democracy involving the participation of multiple parties.
Addressing the public's reactions to his social media engagement, Reimer admitted that his recent tweet advocating for APC's participation in the Government had sparked both positive and negative responses. However, he defended the stance by underscoring the necessity of a balanced democratic environment and the need to represent the voices of those who supported the APC.
Although the US Government had yet to formally congratulate the new Sierra Leonean administration, Ambassador Reimer clarified that President Bio was indeed the President of Sierra Leone. He pointed out that the US had refrained from issuing congratulations, not from disputing his presidency.
When questioned about the US-Sierra Leone relationship, Ambassador Reimer revealed plans to review various programs, particularly Government-to-Government initiatives. He assured that the commitment to supporting the people of Sierra Leone remains unchanged, with an emphasis on enhancing health programs and overall quality of life for the nation's citizens.
Recently, the Independent Commission for Peace and National Cohesion (ICPNC-SL) engaged with the opposition APC in discussions aimed at fostering collaboration with the Government after the elections. The Executive Secretary of the Commission, Madam Hawa Samai, described the talks as productive, citing an audience with the party's leadership and plans to inform the public about the outcomes of the meeting.
In response to the ICPNC-SL's meeting with the APC, Chief Minister Dr. David Moinina Sengeh expressed optimism in a tweet dated August 15, 2023. He expressed his satisfaction with the productive dialogue between the APC and the Independent Commission for Peace and National Cohesion. Additionally, he appreciated the APC's willingness to engage in discussions through national institutions, signaling a unified approach to advancing the interests of Sierra Leone.