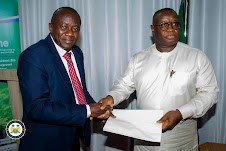 By Amin Kef (Ranger)
In a significant development, the Independent Commission for Peace and National Cohesion (ICPNC) officially handed over its post-elections report to His Excellency President Dr. Julius Maada Bio. The ICPNC, after conducting an in-depth fact-finding mission to address concerns arising after the elections, presented its findings and recommendations to President Bio at State House in Freetown on August 28, 2023.
Rev. Shodankeh Johnson, the Chairman of ICPNC, affirmed that the commission had been granted considerable autonomy to conduct its duties and had collaborated seamlessly to ensure the preservation of peace and national unity within the country.
Collaborative efforts were notably undertaken with various political parties, both in the lead-up to and aftermath of the June elections, including engagement with all Elections Management Bodies. The paramount objective was to solidify Sierra Leone's reputation as a bastion of tranquility among nations.
Rev. Johnson elucidated, "The Commission wholeheartedly engaged with political parties in an intensive process spanning pre-election, election, and post-election periods. Our interactions included comprehensive dialogues with all stakeholders, including opposition parties."
Specifically referencing meetings with the All People's Congress (APC), Rev. Johnson attested to the cordial nature of these interactions. "Our meeting with the APC was characterized by congeniality and a conducive atmosphere that facilitated candid discussions. The collective goal was to propel our nation forward," he emphasized.
Summarizing the culmination of these interactions, Rev. Johnson affirmed, "Through these engagements, we meticulously compiled a comprehensive report that encapsulates the discussions and commitments put forth by all political entities for our nation's progress."
President Julius Maada Bio, upon receiving the ICPNC's comprehensive report, expressed his contentment and assured, "I am gratified to receive this report, which I will thoroughly review before formulating a response."
In reflection, President Bio emphasized the significance of having a group of esteemed Sierra Leonean individuals dedicated to addressing peace and national cohesion matters. He reiterated the ICPNC's role as an essential avenue for conflict resolution, particularly in a democratic framework chosen by the nation.
The official receipt of the ICPNC's report signifies a pivotal step toward addressing post-election concerns and enhancing the stability and harmony of Sierra Leone. The nation eagerly anticipates the President's forthcoming response, which is poised to shape the trajectory of these vital matters in the months ahead.