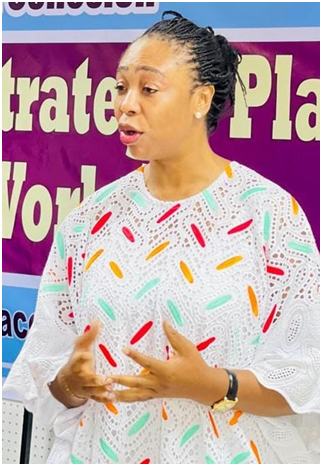 By Amin Kef (Ranger)
The Independent Commission for Peace and National Cohesion (ICPNC), in collaboration with the Talking Drums Studio, UNESCO will today Wednesday 21st September celebrate the International Day of Peace.
In a snap interview with this medium, the Executive Secretary of the Independent Commission for Peace and National Cohesion (ICPNC), Hawa Sally Samai, stated that Peace and Sacrifice are like two peas in a pod, they go together.
She furthered that great sacrifice includes truth-telling and forgiveness, two prerequisites for peace, national cohesion and development adding that when the citizenry is willingly sincere in telling the truth and at the same time is prepared to forgive past mistakes then there will be sustainable peace.
She said one of the key cankerworm that is eating at the fabric of peace and national cohesion is tribalism maintaining that if we are to progress as a nation we need to refrain from being tribal in discriminating against others saying we must be Sierra Leonean in our approach to certain issues.
Madam Samai denounced politicians who always try to whip up tribal sentiments to attain political power admonishing that we must not allow the politicians to play the tribal card.
"National cohesion and development can only be attained when we have peace and to achieve peace requires great sacrifice," she underscored revealing together with other stakeholders they will preach peace in all the corners of the country.
She informed that as the country will soon go to the polls there is the need to uphold and maintain peace and national cohesion stressing that elections should be contested peacefully adding all must strive to be peaceful in their communities and anywhere else one finds him or herself.
"Violence always leads to destruction of life and property which is all the more reason why we must refrain from perpetrating it," she underscored adding that violence only leads to more violence leaving sorrow and not happiness behind.
It must be noted that the International Day of Peace is a day set aside by the United Nations devoted to strengthening the ideals of Peace through the observance of 24 hours non-violence and ceasefire.
This year's International Day of Peace global theme is "End Racism, Build Peace" but in Sierra Leone ICPNC has chosen the theme: "End Tribalism, Build Peace & National Cohesion" because of  the recent spate of tribal rhetoric and statements especially on social media that have the potential to spark violence.
This year the Commission will highlight the dangers of tribalism and to admonish Sierra Leoneans to desist from any act that might bring division in the country. It will rather promote peace and cohesion because without peace there can be no development.
A symposium on the theme, " End Tribalism, Build Peace and National Cohesion" will be held at the Bintumani Conference Hall.
During the recent Peace Commission district engagement in four districts, Paramount Chiefs in particular condemned those using tribalism for political gains.