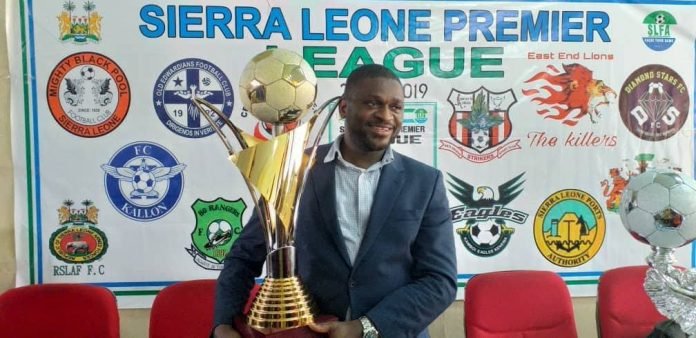 Under the capable and astute leadership of one of the most industrious and humanitarian Lawyer Emmanuel Saffa Abdulai the Premier League continues to be very interesting.
Recently, he presented trophies to the Press and the general public, a presentation which was geared towards serving as a motivation for all participating teams as they are so attractive that any winner in this league will forever remember the history created in the rebirth of Sierra Leone football after four years.
Thirteen (13) teams are currently competing for the title race with every team displaying artistry, brilliance and drama. The Sierra Leone Premier league has brought together over 300,000 spectators across the nation and it has generated billions of Leones which has directly benefited participating teams.
In a well attended Press Conference lawyer Emmanuel Saffa Abdulai disclosed that the winner of this Premier League will take home the sum of One hundred and fifty million Leones (Le 150,000,000) and golden medals and the runner up will walk home with cash prize and silver medals.
Every premier league team has been given the sum of Le50,000,000 from the cash provided by the Government of Sierra Leone and in the second leg of the league participating teams will also be provided with some cash to aid them in running administrative cost.
The Premier League is really here.