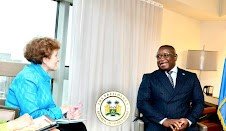 By Amin Kef (Ranger)
President Julius Maada Bio, on the 18th September, 2023 engaged in crucial meetings to discuss sustainable economic growth and development partnerships as well as deliver a statement at the 2023 High-level Political Forum on Sustainable Development (SDG Summit).
The President met with Alice Albright, the Chief Executive Officer of the Millennium Challenge Corporation (MCC), on Monday, September 18, 2023. The discussions revolved around reinforcing Sierra Leone's commitment to sustainable growth and development. During the meeting, President Bio reiterated his Government's dedication to policies promoting good governance, democracy and the rule of law. He emphasized the enduring relationship between Sierra Leone, the United States, and the MCC, expressing a desire to deepen that partnership. The annual scorecard was acknowledged as an essential tool for engaging citizens in tracking progress toward development goals.
Addressing SDG Summit, President Bio played a pivotal role at the 2023 High-level Political Forum on Sustainable Development, held on the same day. Representing the Group of Seven Plus Countries (g7+), President Bio chaired the Plenary Session. The Summit's theme, "Urgent Action Needed to Rescue the SDGs, Deliver Progress for People & Planet By 2030," was highlighted by President Bio as a critical call to action.
As the world reaches the midpoint of implementing the 2030 Agenda and Sustainable Development Goals (SDGs), it faces challenges posed by the COVID-19 pandemic, geopolitical tensions, and environmental threats. President Bio emphasized the importance of taking immediate and ambitious action to achieve the SDGs by 2030.
President Bio also reminded stakeholders of the SDGs' core principle of inclusivity and the commitment to leaving no one behind. He noted that fragile and conflict-affected States have lagged behind in SDG implementation, a situation exacerbated by global crises such as the COVID-19 pandemic and planetary challenges.
To address those issues, President Bio, on behalf of the g7+ countries, proposed concrete steps toward achieving the SDGs:
Continuously promoting peace and stability as central themes in SDG achievement, emphasizing resilience as a guiding principle for SDG attainment, strengthening collaboration and partnerships with development partners to address complex political, social, and economic challenges in conflict-affected and fragile countries.
President Bio expressed confidence in overcoming shared challenges to achieve sustained economic growth and SDG milestones through collaborative efforts.