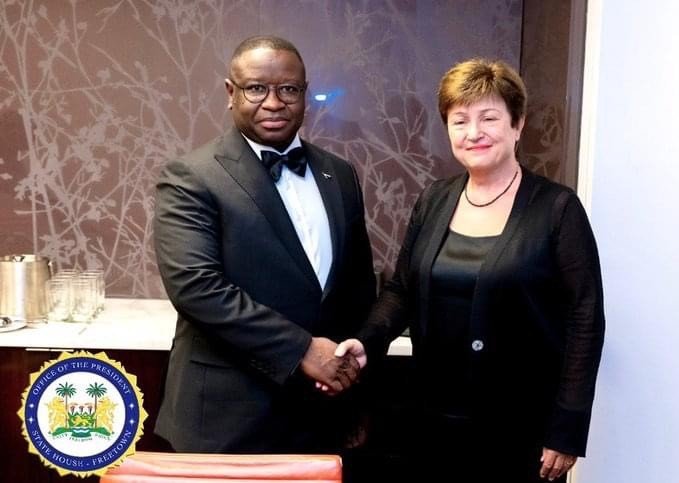 President Bio has disclosed at the Presidential Lodge on the 5th June,2023  that he is impressed with the outcomes of the latest reviews by the International Monetary Fund (IMF) citing the disbursement of USD$20.7 million, after the visit of the team, as a vote of confidence in Government's economic management measures.
"The economic management measures my Government put in place early in my administration in 2018 won the confidence of the International Monetary Fund and reinstated Sierra Leone in the Extended Credit Facility programme that made available USD$172.1 million to our nation. On Monday, June 05, 2023, I was pleased with the news of the approval by the Executive Board for the immediate disbursement of US$20.7 million.
"This is yet another vote of confidence in the measures we continue to put in place to manage the economy in this uncertain global economic environment. This facility will enable us to quickly work towards reducing inflation, mobilize revenue to allow for necessary spending consistent with debt sustainability, safeguard financial stability and maintain external resilience to shock.
"My SLPP administration has been transparent and forthright with public spending, thereby increasing mutual trust between our Government and multilateral agencies. We, therefore, thank the Executive Board of IMF and the entire management for their confidence in my SLPP administration. Our focus is to continue to pursue structural reforms, which are essential to reducing vulnerabilities to corruption and fostering private sector development."
President Bio, who is certain of a first-round victory in the 24 June 2023 elections, also assured that his Government would continue its efforts at improving the business climate and strengthening the governance of key institutions, adding that he is committed to supporting public accountability framework, the anti-corruption efforts and respect for the rule of law.
The Fund stated in a press release on Monday 5 June 2023 that the programme was aimed at reducing inflation, so that the Government could mobilize revenue to allow for necessary spending consistent with debt sustainability, safeguard financial stability, and maintain external resilience to shock.
"The economic recovery from successive external shocks was interrupted last year amid high energy and food prices in the context of Russia's war in Ukraine, reduced household purchasing power and lower than expected mining output. The soaring cost of living contributed to rising levels of food insecurity."
The release also confirmed that Sierra Leone's "Foreign exchange reserves remain adequate but have declined, and rebuilding reserve buffers will be a priority going forward…Macroeconomic conditions are expected to stabilize on the back of the planned adjustment, but the outlook remains challenging. Growth is expected to decelerate to 2.7 percent in 2023 from 3.6 percent in 2022, before recovering to 4.7 percent in 2024.
"Inflation is projected to gradually decline to single digits over the medium term amid the policy stance while foreign exchange reserves would stabilize, assuming robust concessional financing".