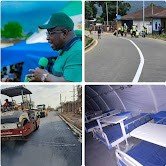 By Amin Kef (Ranger)
Regardless of the challenges associated with events leading to the 24th June, 2023 Elections, President Julius Maada Bio has assured that he will continue to undertake development programmes that will positively impact the lives of the vast majority of Sierra Leoneans. Through the interventions of meaningful development partners, one of which is Pavi Fort Road Construction Company, the President's development aspirations are being rolled out and actualized.
Prior to the 2018 Presidential Election, a promise was made by Retired Brigadier Julius Maada Bio to the citizens of Sierra Leone with the primary intension of supporting him in his election bid and ultimately woo their votes.
In his "People's Manifesto", which he presented at that material time, the then ambitious Presidential aspirant promised that:  "The New Direction will ensure that all towns and villages are connected by well-designed and safe roads to spur economic development and create linkages to markets."
He added that the SLPP Government will plan, develop and implement infrastructure in Sierra Leone on an integrated, holistic and cross-sectoral development basis.
He furthered by maintaining how the Road Safety Authority (SLRSA) will work more symbiotically with SLRA to ensure the death traps in the country's roads and sidewalks are eliminated, while improving on traffic flows at major intersections.
Indeed, after successfully emerging as the President elect of Sierra Leone, His Excellency President Julius Maada Bio, after spending a considerable tenure in office, in 2022  proudly informed elected representatives of the people, during the State Opening of Parliament, that successfully his Government has implemented major road and bridge construction and rehabilitation projects in various parts of the country.
He succinctly intimated how with the help of partners, major road projects were completed and that his Government has also undertaken expansion and re-graveling works and culvert bridges on 1,800km of roads across the country.
The President also informed that his Government had embarked on the maintenance of major township roads in Freetown, Kono, Kabala, Bo, Kenema, Bonthe, Makeni, Magburaka, and Mattru among other major works completed.
Indeed, commendably, as a School of thought maintained, President Bio, to a large extent, translated that aspect of his Manifesto Promise, which has to do with road construction, rehabilitation and maintenance into reality that brought in its wake various advantages in terms of enhancing socio-economic development.
Entering into a contractual agreement with one of the country's strong development partners, Pavi Fort Road & Engineering Company, which is a well entrenched indigenous business entity, the President's road manifesto promise was excellently translated into a tangible reality on different fronts that today are providing advantages in terms of enhancing the smooth movement of people, vehicles as well as goods and services. Under the dynamic leadership of the company's Chairman and Chief Executive Officer, Alhaji Alimu Barrie, much has been realized in actualizing the President's road agenda.
As we go to Press, Pavi Fort is at this material moment seriously engrossed with the maintenance of township roads across the country, specifically in Freetown, Lungi, Port Loko, Kenema and Kabala among other major works undertaken and completed.
After successfully winning the road maintenance contract from the Sierra Leone Roads Authority (SLRA) , Pavi Fort, has for some time now being  involved in the maintenance of roads in Freetown which include  the Kissy By Pass -Old road, City Road – Old Road, Main Motor Road -Old Road, Bai Bureh Road (P.M.B Junction), Bai Bureh road (Portee Junction to Rokupa Junction, Bai Bureh Road (Texaco Junction), Bai Bureh (Texaco Junction to Old road Texaco, Bai Bureh Upgun Junction, Jenner Wright Road (Upgun Junction), Cline Town Round About, Fourah Bay Road (Kennedy St Junction),  Kennedy Street,  Fourah Bay Road (Bombay Junction), Fourah Bay Road (Clock Tower Junction), Circular Road (Model School Junction), Rokel Street -Model Junction to Parliament, Sani Abacha Street and the Regent-Jui Road.
As at present, concrete work is now in progress on the Regent Road by the Police Checkpoint.
It is important to note that the company is doing priming and overlaying of tar or asphalt on these roads and in some cases doing patching. Significantly, since it commenced work some of the targeted roads have been successfully primed and overlaying work completed whereas work is ongoing on some of them. Also, some of the drainages are sometimes worked on or cleared as is the case with the Regent Road where concrete work is done instead of using tar because of technical advantages.
Lamentably, the long neglect and dilapidated state of the aforementioned roads really reduced them into becoming death traps and led various unsuspecting individuals to incur serious bone fractures or injuries as a result of mistakenly falling into gutters with broken slabs.
The good news is that due to the foresight and development ambition on the part of President Bio and the professional civil engineering works that is being done by Pavi Fort Road Construction Company the risks posed by the bad state of these roads are now becoming things of the past.
Cognizance must be taken that prior to undertaking the maintenance of major township roads, Pavi Fort, was engrossed with the implementation of a World Bank funded programme known as the Integrated Resilient Urban Mobility Project (IRUMP).
The Ministry of Transport and Aviation on the 23rd July, 2020 signed an 11 Million Dollar World Bank funded Contract Agreement  with Pavi Fort Construction company for the implementation of an aspect of the project.
As learnt, the project is geared towards improving the quality of public transport, address climate resilience, improve road safety in selected areas and enhance institutional capacity in the transport sector.
Pavi Fort undertook the implementation of the project in three areas or corridors namely: Kissy Ferry Junction, Congo Cross and Lumley and the works involved comprehensive corridor improvements that covered complete traffic management measures including intersection improvements, coordinated traffic lights, improvement of sidewalks for pedestrian movement, drainage, etc.
Pavi Fort commenced work at Ferry Junction on the 15th May, 2022 and within a short period of intense work, the company completed re-graveling works, covering a 400-metre stretch from J Matter, around the Dockyard axis to reach as far as the Bomeh axis, in the East End of Freetown.
Next that followed was the laying of asphalt on the surface of the road, said to have been constructed forty years back, to bring it up to 10 cm from the previous 5cm and that involved three layers.
The company expanded the road from two lanes, on both sides, to three lanes, fixed a new drainage system to replace the old small clogged ones which will curtail or drastically reduce flooding on the road during the rains, and made provision for a traffic light to be fixed at the Ferry Junction intersection to control the traffic flow, fixed street lights, guard rails as well as convenient bus stops or parking spaces.
Similar construction and engineering works were also done by the company at Cong Cross and Lumley under the same project, IRUMP, and as it now stands, works in the three areas has reached 85% completion stage. What now remains for the company to do in these three locations, which the company has assured it will embark on in the shortest possible time from now, is the installation of traffic lights , a work that was delayed because the company is waiting for the experts to jet in and provide the service.
Also, the road signs or furniture will also be rolled out and it is expected that by the end of July, 2023 that aspect of the IRUMP will be done with.
Pavi Fort also undertook and completed the rehabilitation or maintenance of some streets in Lungi including the Maada Bio Street which is mainly used by Sea Bird passengers and Sea Coach officials.  In that locality the company was involved in stone basing and tarring of damaged roads with the aim of minimizing the number of pot holes which by extension is greatly helping in minimizing the occurrence of accidents.
In Port Loko, the company is engrossed with landscaping, roofing and fixing of pillars on a one hundred bed hospital which was once used by NaCOVERC during the COVID-19 and transformed into a hospital. The company has successfully constructed 2 Kilometre of the projected 2.2km road according to our reporter who conducted an inspection and an interview, completed 100% the perimeter fence, the car park and has completed tiling of the hospital facility as well as the laying of asphalt in demarcated areas within the facility . It was stated that the work done on road has passed the hospital leading to a village and had it not been for the rains it should have been completed. As of now the hospital is 99% completed only awaiting commissioning which will take place at any time from now.
When this medium caught up with Ing Momodu Jalloh, who is a Project Engineer of Pavi Fort Construction Company in Kenema, Eastern Sierra Leone,  he warmly revealed that the entire project involves the rehabilitation and maintenance of 30 Kilometre stretch of roads within the Kenema township. He further disclosed how as a company they are currently involved with asphalt work adding that work is expeditiously ongoing as there are no plans of them  shutting down maintaining that recently they just took one day break to give workers the opportunity to vote in the June 24, 2023 elections after which they resumed work.
Ing Jalloh also intimated that drainage work is also ongoing furthering how the work is divided into three phases.
"We have completed phase one which is a 10 kilometre of roads that we completed work on and as of now we are on phase two with almost completing 5 kilometre out of 10 kilometres of that phase," he stated adding that hopefully, all things being equal, during this same period of 2024 the entire targeted 30 kilometres will be completed.  He pointed out that though the company is an indigenous entity their work output matches match international standards further assuring how their qualitative works always stand the test of time.
It could be recalled that on the 19th May, 2023 in Dogoloyia Town, Koinadugu district, a 261-kilometer road project linking Koinadugu with Falaba and Kono Districts was re-awarded to Pavi Fort with a view to reduce travel time and cost, improve service delivery time and promote the health condition of residents in that part of the country. The road is also known as the 261km Kabala-Krobola-Kono Road.
Interestingly, Pavi Fort Road Construction Company was first awarded the contract of constructing that road during the tenure of the erstwhile APC Government under the leadership of former President Ernest Bai Koroma but work came to a halt when there was a change of Government and funds were not forthcoming despite the fact that the contractor (Pavi Fort) had pre-financed the project. Construction work was around 40% to 50% when the halt took place as a result of a change of Government and it negatively impinged on the company. According to CEO Alimu Barrie, if there is one thing for which he will remain grateful to President Bio is re-awarding him the contract more so as he had already spent hugely in pre-financing the project.
As we go to Press , work is earnestly in progress and according to Public Relations Officer of Pavi Fort, only known as Dabor, culvert work is ongoing further revealing that priming and tarring work are being done. He debunked the false information that the company has terminated work saying they only stopped work for three days because of the elections also divulging how they recommenced work immediately.
Dabor disclosed that because of heavy rains they will have to stop work in August and resume work on the 15th September, 2023 adding that for now stone pitching is taking place and the quarry is operating as well as the asphalt plant is also functioning.
"90% of the culvert work has been completed," he confidently reiterated.
Worthy of note is that a commitment was made by the CEO of Pavi Fort, Alimu Barrie, that if the road project is not completed within the stipulated timeframe then residents should not blame President Bio but rather him, an assurance which he confidently reiterated.
Indeed, true to his words, Pavi Fort has gone well ahead with the construction work to the admiration of many with the expectation that, if the rains do not impede works, the project will be completed within record time.
In an engagement with Pavi Fort's Director of Operations, Juel Bernard Lawson, he frankly informed that the secret behind the successes of the company hinges on the fact that though Pavi Fort is an indigenous company that employs local staff yet sometimes they hire the services of experts if the expertise could not be secured nationally furthering that when it comes to equipment the company has fleet of machines at its disposal to undertake various tasks.
Lawson also mentioned that they have asphalt plants at different locations as part of their decentralization strategy also disclosing how they have the best paver which is an electronic device with an expert controlling it and Sierra Leoneans understudying him.
Random interviews conducted by this medium, targeting residents within the different project sites where Pavi Fort is involved   in the implementation, they complimentarily  and roundly commended the company for delivering qualitative road works maintaining that the initiative taken by the Government, under the leadership of President Bio was indeed a right step taken in the right direction..
They further expressed delight that the works, after completion, will greatly improve vehicular movement, lead to the longevity of vehicles and minimize flooding from taking place on major roads due to poor drainages. They extended gratitude to President Bio and Pavi Fort Construction Company for improving road networks right across the country as such will enhance national development at all levels.
Some maintained that their rolling out  is very timely more especially as President Bio has declared that during this his second tenure in office greater priority will be placed on revamping agriculture in order for Sierra Leone to feed itself.