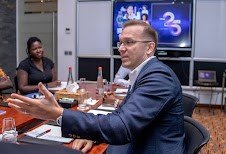 QNET has reiterated its willingness and determination to prosecute scammers who are in the nefarious act of using the name of the company to scam and defraud unassuming members of the public in Sierra Leone and other places. That disclosure was made by the Chief Transformation and Reputation Officer of QNET, Trevor Kuna, while addressing journalists.
It is an open secret that for quite a while now, the company has been accused of clandestinely and deceitfully defrauding unsuspecting members of the public by creating the impression that it will facilitate their travelling to developed countries and in some cases to secure lucrative jobs overseas, allegedly committed by some of its recalcitrant independent representatives and other scammers, who are not associated to the company in any way.
Trevor Kuna highlighted how the company has been in existence for 25 years and it sells its products in different parts of the world through direct selling further revealing that the direct selling industry is worth more than $200 billion globally and very pervasive in the United States.
According to him, direct selling helps eliminate the barriers that prevent people from entrepreneurship maintaining that when people sign up to direct selling ventures, they are not required to own a shop or retail space but rather they scale over the cost of setting up a business. They only register and buy products and sell to other people directly or refer other people to buy products so they can earn a commission on whatever is sold.
According to Trevor Kuna, the direct selling industry is simple and offers a lot of opportunities for people to have additional source of income but was quick to add that direct selling will not make anyone a millionaire overnight, however, underscoring that if people put in hard work, professionalism, honesty and dedication, they could be on their path to changing their own life stories.
He mentioned that besides the entrepreneurial opportunities that the company presents to people, its products are carefully manufactured to function optimally intimating how the company sells a wide range of products from wellness, healthcare, jewelleries, holiday packages to educational courses and it is based in Hong Kong and owned by many reputable and recognized associations.
QNET is encouraging all to report anyone found to be misusing its name by promising fixed income jobs, overseas travels, investment returns and other outrageous claims through network.integrity@qnet.net.