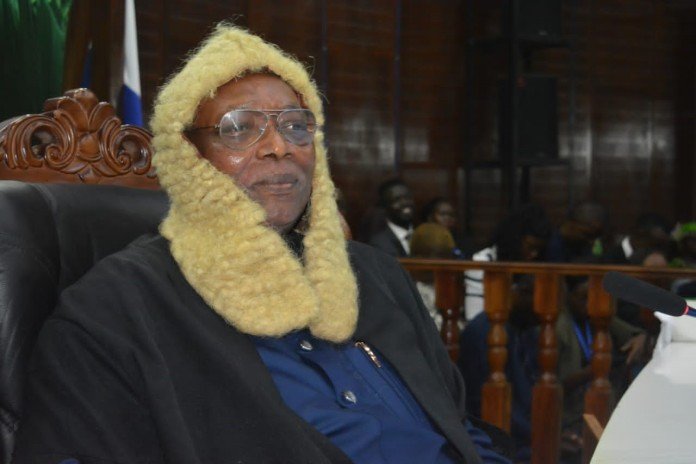 By Amin Kef (Ranger)
During a momentous occasion, on the 18th of July 2023, Dr. Abass Chernor Bundu was re-elected as the Speaker of the Sixth Parliament of Sierra Leone. His acceptance speech highlighted the solemn responsibility of Parliament and its members to uphold the Constitution and serve the nation faithfully.
In his speech, Dr. Bundu emphasized the significant power vested in the Parliament to make laws for the peace, security, and good governance of Sierra Leone. He reminded MPs of their duty to defend and protect this power diligently, as any attempt to alter or remove it requires approval by at least two-thirds of Parliament and the public through a referendum.
The Speaker acknowledged the accomplishments of the previous Parliament, notably passing groundbreaking legislation, including the abolition of the death penalty and the Gender Equality and Women's Empowerment Act (GEWE Act). He praised President Julius Maada Bio's initiatives to boost agriculture, develop human capital, create job opportunities for the youth, and invest in technology and infrastructure for sustainable economic growth.
Dr. Bundu urged MPs to embrace a new work ethic, emphasizing the importance of hard work and dedication. He shared his personal journey of rising from a humble background and attributed his success to hard work, intellect, and honesty. He drew inspiration from the late Prime Minister of Singapore, Lee Kwan Yew, who transformed Singapore from a Third World to a First World nation within 40 years.
The re-elected Speaker called for unity and determination among MPs to deliver progress and prosperity for Sierra Leone. He encouraged respecting time and adhering to the Parliament's schedule as a small but vital step towards building a culture of efficiency and productivity.
Dr. Abass Chernor Bundu's re-election as Speaker signals a continued commitment to promoting positive change and advancing the country's development goals. As Sierra Leone enters a new parliamentary term, hopes remain high for achieving transformative results and emulating the success stories of other nations.