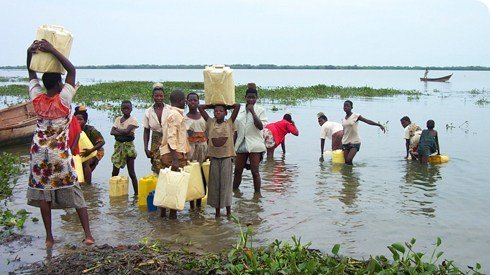 The Medical Officer at the Directorate of Non Communicable Diseases and Mental Health, Ministry of Health and Sanitation, Dr. Abu Bakarr T. Koroma has disclosed according to a research that 75% of salt is found in what we consume as processed food, adding that only 25% is found naturally in foods or added during cooking or at the table, which he noted puts us at risk to preventable cardiovascular diseases like hypertension, heart attack, dementia etc.
Dr. Koroma made the disclosure at a 2 day material/message development workshop held last week at the Directorate of Health Security and Emergencies/Emergency Operation Centre on Wilkinson Road. The purpose of the message development workshop was to develop key messages and IEC materials for awareness raising and sensitization campaign in Western Area Urban on the harmful effects of high salt intake and the health benefits of low salt consumption.
While presenting on Message Development, Chief Health Education Officer and Programme Manager, Health Education Division, Lansana A. Conteh stated that they were going to embark on awareness raising/sensitization campaign in Western Area with specific focus on the effects of high salt intake, and the benefits of low salt consumption. Mr. Conteh added that as a pilot, they were going to start off by engaging 200 food handlers in Western Area and he continued that they were also going to do media engagements like interactive radio and TV discussion programmes, broadcast Jingles and develop and disseminate key messages Public Information, Communication and Education, thereby changing attitudes on high salt consumption.
While pointing out the harmful effects of high salt intake, Dr. Koroma noted that high intake of salt leads to high blood pressure, hypertension, Heart failure, Heart Attack, dementia and Stroke.He reiterated thatsome evidence has shown that too much salt in our diet can damage the heart, aorta, Kidneys, bones without increasing the blood pressure, which makes it scary, thus kills slowly.
He continued that people with health conditions like High blood pressure, diabetes and people in their 50s and anyone who fails to imbibe to the recommended dietary standards, by consuming low salt, low sugar etc. is at great risk of cardiovascular diseases.
Nutritionist, Mutivah Kappia at the Directorate of Food and Nutrition, in her presentation hastily cautioned that in as much as they were promoting low salt intake, they were also giving out the health benefits of salt in the human body stating that salt regulates blood pressure and blood volume, helps transmit impulses for nerve functions and muscle contraction, regulates the acid-base balance of blood and body fluids, sodium/salt maintains the water balance within cells.
She continued and noted that theWorld Health Organization (WHO) recommends that adults consume less than 5 g (just under a teaspoon of salt per day and that salt for adults be adjusted downward for children aged two to 15 years based on their energy requirements relative to those of adults.
She cautioned that the recommendation for children does not address the period of exclusive breastfeeding (0–6 months) or the period of complementary feeding with continued breastfeeding (6–24 months).
"All salt that is consumed should be iodized or "fortified" with iodine, which is essential for healthy brain development in the fetus and young child and optimizing people's mental function in general," advised Mutivah. She further recommended the removal of salt shakers and soy sauce from tables in restaurants; Introducing product or shelf labels making it clear that certain products are high in sodium; providing targeted dietary advice to people visiting health facilities; advocating for people to limit their intake of products high in salt and advocating that they reduce the amount of salt used for cooking; and educating children and providing a supportive environment for children so that they start early with adopting low salt diets.
She further advised against the excess use of Maggie in our cooking, stating that most of these branded Maggie have in them high percentage of salt which makes it worst and continued that salt is normally added in our rice and the source as well. This ,she noted, is a course to concern, as the 5 gram recommended intake of salt would have surpassed/risen as high percent of salt is already on the Maggie with added salt in the sauce and the rice, which she noted is an old aged practice and that high salt intake kills people slowly without even knowing.
She advised food handlers to reduce the amount of salt and Maggie they use in their cooking as high salt and Maggie in food is not a health dietary practice/behavior and recommends that they either use Maggie alone or salt in their cooking and use spices, pepper, ginger etc. when they flavor fish, meat etc. as it will limit them from using salt, Maggie or any other salt product for flavoring/preserving food.