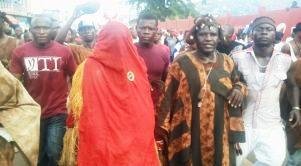 Members of a secret society in Sierra Leone went on a rampage in the South-East of the country to protest a new ban on initiation rites prompted by deadly unrest, Police said on Thursday.
Vowing to defy the ban, the assailants attacked the village of Liema, near the third city of Kenema, on Wednesday, storming the police station and freeing detainees, said police spokesperson Brima Kamara.
"They targeted peaceful citizens in Liema village chanting Poro songs and forcing the inhabitants to hide," Kamara said, adding that they looted homes.
Poro societies – widespread in Sierra Leone and other West African countries – carry out initiation rites for boys involving ritual scarring during retreats in "sacred woods" that can last for several months.
The ban followed clashes on Monday near a site occupied by agricultural giant Socfin, which residents accused of trying to occupy land they say belongs to a local secret society.
Sierra Leone police said they had opened an investigation into two deaths during the clashes, which also left one of their officers injured.
In a separate incident, a secret society kidnapped nine people as they travelled to work for mining firm Sierra Rutile in Moriba, in the southwest of the country.
"We will go ahead with our secret society initiations because it's our tradition," a member of the Poro society affirmed from Kenema.
More than 90% of Sierra Leoneans are thought to undergo such rites of passage.
Girls undergo a Bondo ritual, which follows a similar pattern but also involves female genital mutilation (FGM), a practice banned in many countries and condemned as potentially lethal by the World Health Organisation.
Sierra Leone has one of the highest rates of FGM in the world.