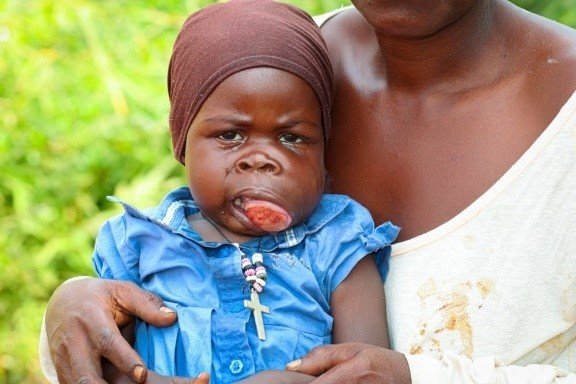 By Foday Moriba Conteh
During a snap Press Conference convened at the Caritas Office on Savage Street in Freetown on Tuesday 11th July, 2023, the Lead Coordinator of Sick Pikin Project, Ishmael Alfred Charles updated pressmen about the imminent departure of Esther Mamie Margai, who is suffering from mass in her left maxillary region. He informed that they will be departing the shores of Freetown on Wednesday 12th July, 2023 for New Delhi in India for surgery.
In her opening remarks, the Project Coordinator of the Sick Pikin Project, Alice M. Bah, said as always, the humanitarian entity usually convene such meetings to inform the general public about the latest strides that the organization has undertaken or wants to undertake and try to identify as well as express gratitude to those who are investing their resources to support the project as well as those who are also giving their moral support to the project.
She intimated that the purpose why the Press Conference was convened  relates to informing the general public that  Esther Mamie Margai will be taken to India  for medical treatment and they will be departing for New Delhi in India.
The Lead Coordinator of Sick Pikin Project, Ishmael Alfred Charles pointed out that the one year seven months old Esther Mamie Margai who is suffering from a mass in her left maxillary region, which was noticed after an upper left canine tooth extraction, will be undergoing surgery in India.
He said that the mass has progressively increased in size and now extends to the opposite side of her face, with the tongue gradually projecting outside. According to the reports, the lesion is anechoic, and it measures 34.5×20.3mm, and there was no history of pain or difficulty in breathing, but the child feeds mostly on a fluid diet.
Ishmael Alfred Charles said that according to her parents, in February 2022, Esther Mamie Margai while she was playing fell off from the hands of her elder sister's friend and broke a tooth.
He furthered that her parents then took her to the Aberdeen Women Center which is commonly called Mercy Ship for medical examination and possible treatment. From Mercy Ship, she was taken to Connaught Hospital where the tooth was extracted and that ever since, a "left maxillary region abscess" has developed and continued to date.
The Lead Coordinator disclosed that Esther's medical report, based on the (CT) Scan findings, and in the absence of maxillofacial surgical services in the country, strongly recommends a timely referral for appropriate maxillofacial consult and treatment abroad of which after the support of various individuals and institutions they are proud to announce that Esther Mamie Margai will be leaving the shores of Freetown for medical treatment in New Delhi, India.
He said that they have been able to raise $21,000 out of the $24,000 which they have been trying to raise for Esther Mamie Margai's treatment.  He concluded by expressing appreciation to various institutions and individuals who supported to raise the needed funds for Esther Mamie Margai which includes Vista Bank Limited Sierra Leone, Save The Future Generation UK, Hajja Rashida from the Netherlands, Vicki Middleton, Charles 40th Birthday Celebration Donors, Umaru Fofana, Dr. Kadija Grace Ahene, Dr. Isatu Kakay Diallo.
The Head of Business Development at Vista Bank, Marie Dura commended the efforts of  the Sick Pikin Project towards supporting sick children in the country, noting that Vista Bank has been partnering with Sick Pikin Project to save the lives of severely sick children in the country whose parents or guardians are challenged financially and cannot afford to pay for their medical bills.
On behalf of the bank, she reiterated the bank's commitment towards supporting the Sick Pikin Project.
The Father of Esther Mamie Margai extended his sincere thanks and gratitude to the Sick Pikin Project and all those who supported to raise the funds to be utilized for proper medical treatment in India.
He said that since February 2022 Esther Mamie Margai, while she was playing, fell off and broke a tooth, adding that such an unfortunate incident was kept hidden from them as parents as they were not around at the moment, and only came to learn about the broken tooth after a week of showing signs that things were not okay. She eventually stopped eating and could not sleep due to the pain.
The father stated that they are very happy that the Sick Pikin Project came to their rescue in order to enable their child to be treated in India saying they are with the strong conviction that she will undergo her surgery in India successfully.