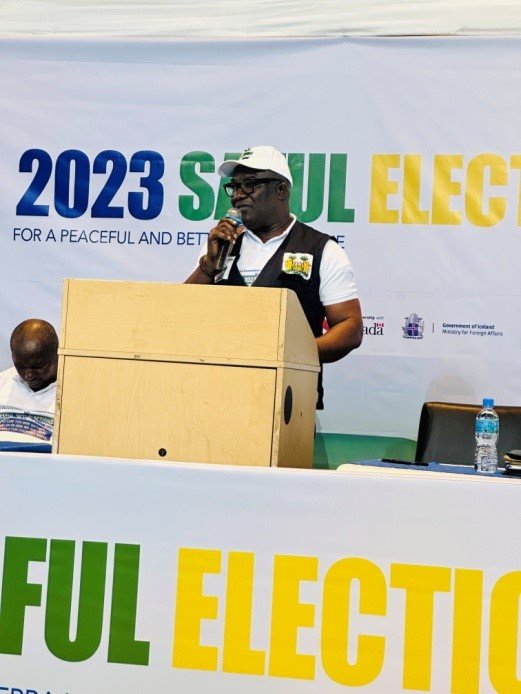 By Amin Kef (Ranger)
The Sierra Leone Electoral Commission for Sierra Leone (ECSL) has announced the release of partial results for the Presidential, Parliamentary, and Local Council Elections held on June 24th, on Monday 26th June 2023 at Bintumani International Conference Hall.
The ECSL conducted the elections simultaneously in compliance with Section 33 and 38A of the Constitution of Sierra Leone and Sections 7 and 68(1) of the Public Elections Act, 2022.
As the National Returning Officer, the ECSL has released partial results for the Presidential election, representing 60 percent of the total polling stations results processed in each districts. These results were cleared by the ECSL Result Management systems at Regional Tally Centres in Freetown, Bo, Kenema, Makeni, and Port Loko.
It is important to note that these results are partial and do not represent the final outcome of the election. The ECSL assures the public that the remaining results will be released in due course as the commission works tirelessly to ensure a free, fair, and transparent election process.
Names of Candidate and valid votes cast:
NDA – BAH, Mohamed Chernoh 14,820
SLPP – BIO, Julius Maada 1, 067,666
PDP – COKER, Prince 4,136
CDP -JONJO, Mohamed 1,663
UNPP – KABUTA, Saa Henry 2,865
ADP – KAKAY, lye 3,094
PLP – KAMARA. Nabieu Musa 5,149
APC – KAMARA, Matthew Wilson Kamara 793,751
PMDC- MARGAI, Charles Francis 9,621
RUFP- Sankoh Abdulia Dougakoro 4,780
NURP – SANDY, Jonathan Patrick 943
UDP – SOWA-TURAY, Mohamed 1,099
ReNIP- WILLIAMS, Beresford Victor 1,807