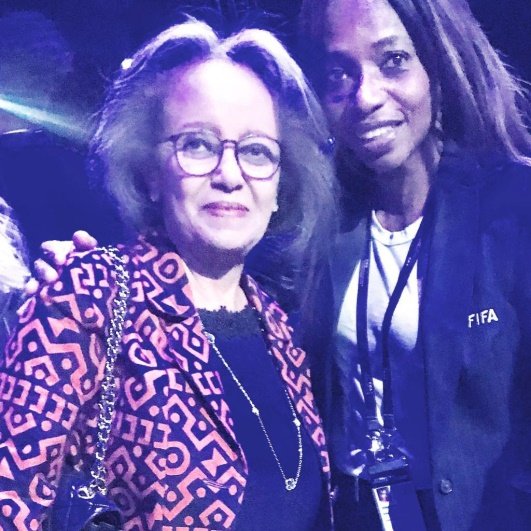 As 24 nations prepare to participate in the 8th edition of the FIFA Women's World Cup France 2019, leaders from the world of football, politics and society converged for a two day convention in Paris which ended recently.
This year's FIFA hosted event is unprecedented in its magnitude where discussion about the development of the women's game, social benefits of football for women and girls, and female empowerment were the focus.
FIFA President newly re-elected Gianni Infantino and General Secretary Fatma Samoura were the hosts.
SLFA President Isha Johansen a global icon and change maker was among the pool of international influencers in the world of football and gender empowerment through sports and politics.
In her media interviews she expressed how overwhelmed she was with the goodwill and congratulations extended to her on her court victory. Her proudest moment was meeting the first female President of Ethiopia, Her Excellency Sahle-Work Zewde.
"When she said to me I know who you are, congratulations, my heart skipped a beat. Such an amazing woman," Madam Johansen said.
Madam Johansen also engaged with another dynamic female political leader, the Prime Minister of Barbados, the Hon. Mia Amor Mottley, QC, MP who also doubles as the Minister of Finance, Economic Affairs and Investment.
Madam Johansen said to this medium that she is focused and committed now more than ever to re-build Sierra Leone's fractured football industry.
"I am more determined now than ever to see Sierra Leone and in particular Sierra Leone Football attain its peak and fly the pride of our nation. No single individual or groups will distract this national vision,' she maintained.