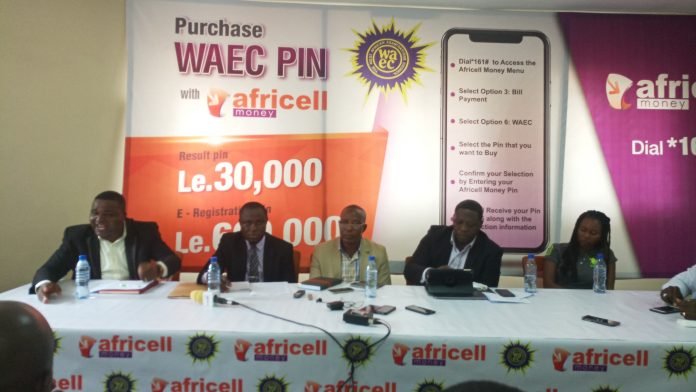 On Thursday 20th June 2019, the West African Examinations Council in partnership with Africell launched its electronic payment services for both entries and scratch cards at the mobile company's Siaka Stevens Street Customer Care Centre in Central Freetown, commonly known as 'ODION'. This system, through the use of Africell Money, will relieve students from the hassles of purchasing scratch cards and registrations for exams.
Speaking during the launching ceremony, the Public Affairs Officer of WAEC, Sallieu M. Kamara, expressed delight in the partnership with Africell, adding that this will reduce the time taken by students to purchase forms and make entries into the up-coming private exams this year and will enable those who have taken exams to get their results on line without having to purchase scratch cards. He stated that initially WAEC started with the system where students obtained forms from WAEC offices, but realised the constraints faced by students as well as parents. They then moved on to the sale of entry cards for the examinations and the sale of scratch cards. This system caused students to lose huge sums of money. With the new system, the Electronic Payment Services, "students can now relax in the comfort of their homes and get a pin for their registration for WASSCE", the Director said.
Africell's Chief Corporate Affairs Officer, Joe Abass Bangura, said that this launch is its latest service in partnership with WAEC. He stated that this will allow students to register for examinations and check their results using their Africell Money wallet in their phones. This will save them the time and additional costs incurred to travel to WAEC offices to purchase scratch cards and trek to internet cafes to complete their transactions. He stated that with the service, students with Africell Money will be able to purchase their WAEC Pin directly from their mobile phones at no extra charge. 2 Pins will be offered, one for checking results and the other to register for exams. Follow the steps below:
Step 1: Be registered for Africell Money and have the correct amount in your account.
Step 2: Dial *161£ to access the Africell Money Menu
Step 3: Select option 3: Bill Payment
Step 4: Select option 6: WAEC
Step 5: Select the Pin that you want to buy
Step 6: Confirm your selection by entering your Africell Money Pin.
You will receive your PIN by SMS along with the Transaction information.
This PIN can then be used to access the WAEC platform.
NOTE: THIS SERVICE IS MEANT FOR SUBSCRIBERS ONLY. AGENTS WILL NOT BE ABLE TO PURCHASE TOKENS ON BEHALF OF STUDENTS. THEY WILL NEED TO CASH IN FOR THE STUDENT AND THE STUDENT WILL NEED TO COMPLETE THE TRANSACTION FROM THEIR OWN AFRICELL MONEY ACCOUNT.