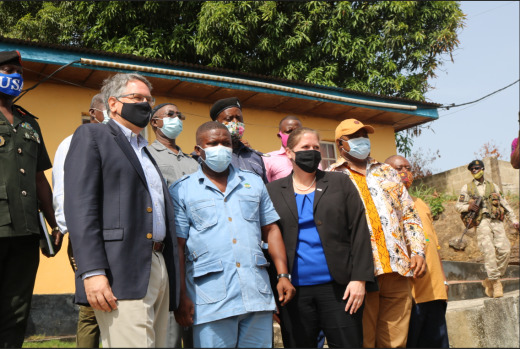 By Foday Moriba Conteh
On the 12th May 2021 the United States of America Ambassador to Sierra Leone, David Reimer, stated that: "The United States is proud to support efforts to eradicate malaria in Sierra Leone through the U.S. President's Malaria Initiative (PMI),"
Ambassador David Reimer made that statement during a tour of United States-supported malaria projects in Bombali District.  The Ambassador, along with the U.S. Agency for International Development (USAID) Mission Director, Kendra Schoenholz, the District Health Medical Team, toured the Vector-borne Disease Insectary and Laboratory (VDIL) and observed a demonstration of Indoor Residual Spraying, a critical malaria control measure funded by PMI.
It was stated that since the project was launched in Sierra Leone in 2017, PMI has invested $60 million to fight malaria in the country.  In 2021, PMI will spend $15 million to support key malaria interventions that are aligned with the Sierra Leone National Malaria Control Program's National Strategic Plan to achieve "access to malaria control interventions for all" and reduce malaria morbidity and mortality.
"Malaria is a leading cause of death for children in Sub-Saharan Africa," stated Director Schoenholz, who oversees all USAID activities in Sierra Leone and Guinea.  "The United States, through PMI, has delivered more than 3 million bed nets, 2.5 million rapid tests and 2 million doses of fast-acting treatments to Sierra Leone as part of our commitment to fighting malaria.  These investments in malaria control and prevention helped reduce the rate of child mortality in Sierra Leone by 22% since 2017."
"I enjoyed visiting the Vector-borne disease Insectary and Laboratory and learning more about their work surveilling the mosquito population, and monitoring the efficacy of insecticides," stated Ambassador Reimer.  "I am proud of the support the United States Government has given this critical facility through USAID."  The VDIL conducts systematic collection of Anopheles mosquitoes, the malaria vector, and tests these vectors for their resistance to the insecticides used in ITNs so that the MOHS has the most effective tools to prevent malaria for the people of Sierra Leone.
Ambassador Reimer and Director Schoenholz also observed a demonstration of the Indoor Residual Spraying (IRS) process in Makarie village.  IRS is a critical intervention the President's Malaria Initiative has supported to control the mosquitos that spread malaria.  This environmentally safe administration of insecticides kills the majority of mosquitoes inside houses during the peak malaria transmission period during and following the rainy season.  In combination with the use of insecticide treated bed nets (ITNs), indoor residual spraying protects families and children from becoming infected with malaria.
Both the Vector-borne Disease Insectary and Laboratory and the Indoor Residual Spraying program are implemented by the PMI VectorLink Project.  The Project is supporting the Government of Sierra Leone in planning and implementing safe, cost-effective, and sustainable IRS, ITN, and other life-saving malaria vector control interventions with the overall goal of reducing the burden of malaria.  PMI is led by USAID and implemented together with the U.S. Centers for Disease Control and Prevention (CDC).
Ambassador Reimer and Director Schoenholz also met with Paramount Chief Bai Sebora Kasangna II, Resident Minister Abu Abu Abdulai Koroma, and met with the District Medical Health Team during their visit to Makeni.