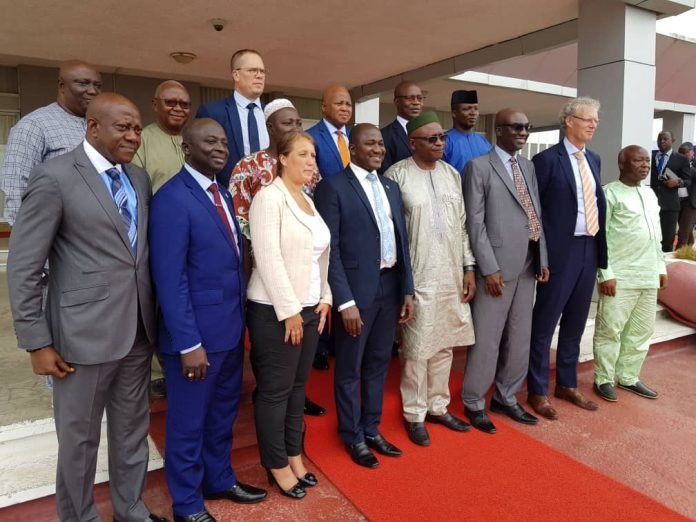 The Sierra Leone Civil Aviation Authority and International Civil Aviation Organisation have launched the Safe Fund Project for Sierra Leone at the Presidential Lounge, Freetown International Airport.
The Safe Fund Project is an International Civil Aviation Organisation (ICAO) project that is set to assist Sierra Leone resolve its aviation safety deficiencies and strengthen its oversight capabilities in a sustainable manner.
Delivering his PowerPoint presentation, the Director-General of Sierra Leone Civil Aviation Authority, Moses Tiffa Baio thanked ICAO for the initiative and support and also the UKCAA for executing the project. While analysing the current rating of Sierra Leone, he highlighted that the International Civil Aviation (ICAO) conducted an audit in 2006 under the Universal Safety Oversight Audit Programme (USOAP), adding that the outcome of the audit indicated that Sierra Leone had deficiencies in all the eight Critical Elements of the State Safety Oversight System.
"The Safe Fund Project is essential to the development of the air transport sector in Sierra Leone. As it stands, Sierra Leone is ranked 43/46 in the Regional Aviation Safety Group for Africa and India Ocean (RASG-AFI) rating with respect to overall effective implementation. Within this group, 52.17% have reached the target of 60% effective implementation with an average of 51% while Sierra Leone rates below the average of RASG-AFI," he said.
In his remarks, the ICAO Regional Director, Mam Sait Jallow commented that the commitment of His Excellency the President, Rtd. Brigadier Julius Maada Bio to enhance civil aviation as a priority in Sierra Leone's national development agenda was a clear testimony. He added that a number of assistance mission visits to the State would be conducted by ICAO in Sierra Leone between 2019 and 2020 in order to assess the impact of the project in the relevant areas.
"During the 39th Session of the Assembly, Sierra Leone requested further assistance from ICAO to enhance its safety oversight system and subsequently became a beneficiary of the SAFE Fund. The Safe Fund project entails building and strengthening of the safety oversight system of Sierra Leone," he said.
Launching the Safe Fund Project, the Minister of Transport and Aviation, Hon. Kabineh Kallon stated that the project was a tremendous boost to strengthen safety oversight capabilities of the state. The Minister further mentioned that air transport was projected to double in the next 15 years and based on that, he said current and emerging safety risks were to be addressed proactively to ensure significant capacity expansion was carefully managed and supported through strategic regulatory and infrastructural developments.
He concluded by thanking the ICAO President, Dr. Bernard Alieu, Secretary General Dr. Fang Liu, Regional Director Mr. Mam Sait Jallow, the WACAF team in Dakar and the UKCAA Consultants for their continued support towards the development of the aviation industry in Sierra Leone.
Present at the event were Paramount Chief of Kafu Bullom Chiefdom, the General Manager and staff of Sierra Leone Airport Authority, Civil Society Organizations, and the media.