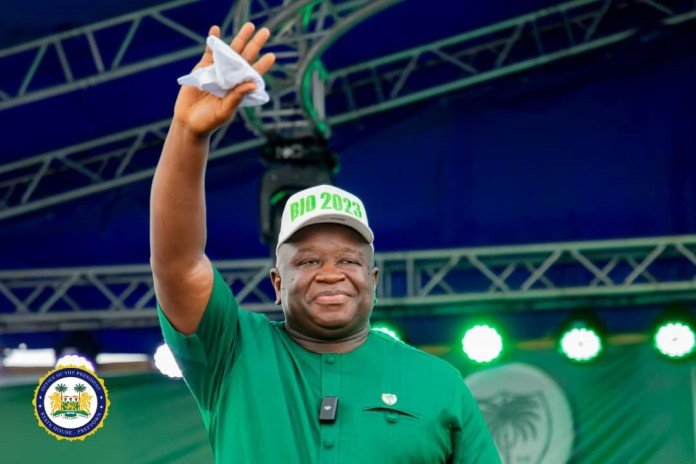 The Eastern Provincial City of Kenema was painted green on the 23rd May, 2023 as jubilant supporters draped in the green and white colours of the Sierra Leone People's Party (SLPP) turned out in huge numbers to witness the launching of the New Direction Manifesto by His Excellency, President Dr Julius Maada Bio, who is seeking a second 5-year term mandate as the standard-bearer for the Party and to reaffirm his commitment to consolidate his achievements and accelerate transformation.
President Bio  started by thanking his employers, the citizens of Sierra Leone and reminded them of the promise he made five years ago from within the walls of Port Loko Teachers College Hall where he launched his 2018 manifesto that earned their trust and confidence to lead the country as the fifth President of the Republic.
"Serving as your President has been my greatest honour and privilege. Thank you again for mandating me to serve from the second highest office of our nation. I say second because the most important Office and Title in our democracy is The Citizen. Thank you for holding my Government accountable to the people.
"Today, from within the walls of the Eastern Technical University Hall, Kenema, I stand before you again ─ with great humility and gratitude, with renewed vitality, and with a deeper sense of purpose ─ as I launch my re-election campaign to serve you and our great country as President for a second term," he respectfully submitted.
He also reiterated that in every region of the country, he had always shown that the SLPP Government programmes and activities were not determined by age, religion, gender, ethnicity, voting pattern, or most importantly, political affiliation, adding that the SLPP had served and would continue to serve all citizens of the country because of those four words that were engraved in the minds and hearts of Sierra Leoneans, citing the party slogan – "One Country, One People".
"If you believe that Sierra Leone needs more schools, more teachers, increased pupils' enrolment, improved pass rates at public exams and expanded school feeding for learners…If you believe Sierra Leone needs to improve its agricultural productivity to attain food security…, more healthcare facilities, nurses, doctors, and further improvement on key health indicators, Vote  Julius  Maada Bio And The SLPP!
"If you believe Sierra Leone needs a more resilient and inclusive economy…, needs a HE-FOR-SHE Champion for more protection and empowerment of women and girls…, needs continuous transparency and accountability in governance…, more transparency in the mining sector and more benefits to mining communities, Vote Julius  Maada Bio And The SLPP!
"If you believe Sierra Leone needs more roads, bridges and other purposeful infrastructure…, more jobs and economic empowerment opportunities for young people…, more international success in sports and flourishing Football Leagues…, more action on climate change, more international respectability and continental and global leadership, Vote "Julius  Maada Bio And The SLPP!"
"Finally, My Fellow Citizens, if you believe Sierra Leone should not be taken back to the ancient times of 1961, Vote  Julius  Maada Bio And The SLPP!" he told the jam-packed hall of supporters, with outside broadcasting facilities and live television and social media coverage showing the event.
After the launch in Kenema City, the President proceeded to Daru in the further East and engaged residents of Kambia in the northern part of the country on Wednesday 24 May 2023 to popularize his messages in the manifesto.